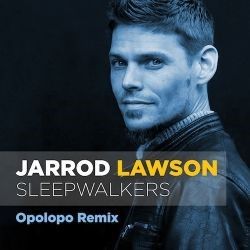 Jarrod Lawson - Sleepwalkers (Opolopo Remix)
After the enormous success of his self titled debut album, one of Soul music's brightest stars, Jarrod Lawson, gets the remix treatment from the mighty Scandinavian producer Opolopo. 'Sleepwalkers' hails the first of a series of remixes forthcoming for this blue-eyed soul-jazz genius. Opolopo takes the Latin fused original and works his feel-good magic planting it on Summer's dance floors. His stunning arrangement oozes pure class, teased with smooth Jazzy keys underpinned by bouncing Soulful beats that together dance beautifully around Jarrod's incredible voice.
Hailed by the London Evening Standard as "the biggest Soul-Jazz sensation in years", Jarrod Lawson is arguably Soul music's brightest star. He has recently won Best Soul Artist of the Year at the UK's Jazz FM Awards, beating D'Angelo and Lalah Hathaway. Jarrod Lawson occupies the jazzier side of the soul genre. Alongside an amazing, heartfelt vocal range and considerable talent at the keys, he writes, produces and arranges. Among his fans are radio presenter/tastemaker Gilles Peterson. At Peterson's 2015 Worldwide Awards event in London, Jarrod came second in the Album of the Year category. It has certainly been a whirlwind 12 months for the Portland, Oregon-based musician. He has shared stages with John Legend, Erykah Badu, Average White Band, and even played at his hero Stevie Wonder's birthday party. Jarrod is a multi-talented, multi-faceted artist and whether he plays Funk, Folk, R&B, Rock or Jazz, "everything he touches turns to Soul", as one critic wrote.
Equipped with keyboards, vocoder, and modern technology Opolopo plays from London to Tokyo, as a one man band, with jazz ensemble Expansions, or with primary collaborator Amalia. His music spans over a decade on labels such as JVC Japan, Warner Brothers, Sony/BMG, Tru Thoughts, Z Records, Om Records, Local Talk and Especial Records. Collaboration/remix highlights include the legendary Dazz Band, Craig David, Mr. V, Lanu, Simon Grey, Ok_Ma, Mpho Skeef, Eska Sacha Williamson and his incredible version of Gregory Porter's "1960 What?".
'Sleepwalkers' (Opolopo Remix) will be released on August 28th 2015 on Dome Records.