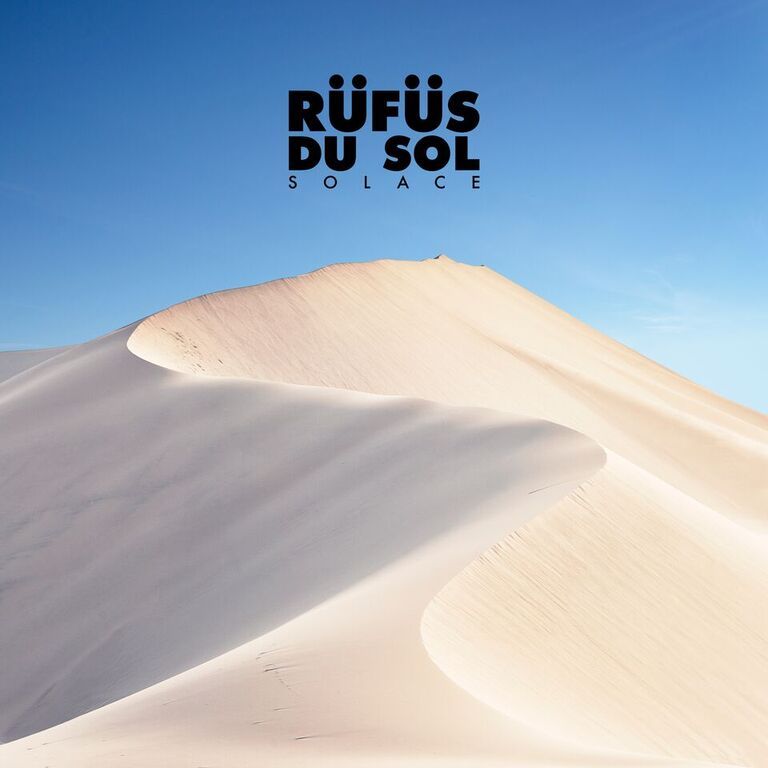 RÜFÜS DU SOL - Solace
Today, live-electronic trio RÜFÜS DU SOL have released their third full-length 'SOLACE' LP via their newly launched Rose Avenue imprint and Reprise Records. Equal parts rock 'n' roll temperament and ethereal electronic sound scaping, the album shepherds the band into a realm of sonic exploration all its own. The tracks retain the anthemic qualities that have propelled the band into one of electronic music's biggest live juggernauts, but from the offset 'SOLACE' is their darkest and most introspective work to date.

'SOLACE' opens with the regret tinged stanzas of 'Treat You Better', a break-out track that's catchiness belies the lyrics that yearn for the simplicity of past years and second chances. RÜFÜS DU SOL have built their huge fan base on euphoria and melody, this release delivers both. The band's lyrics reveal a very personal documentation of their inward struggles. It's a brutally honest outpouring which can't help but move both feet and heart.

The voice of lead singer, Tyrone Lindqvist, crying out for help on 'Underwater' rings true while at the same time the urgency of the track, will make packed crowds dance.
"Help me out before I die
Save me now before I give up
Help me out before I drown
'Cos I just need some space"
It's this duality that makes this record both fascinating and captivating. RÜFÜS DU SOL have managed to make an album full of kinetic energy and dancefloor appeal, and yet, it is cloaked with a sense of aching. The discomfort felt throughout the record is balanced by the welcomed lightness that comes when internalized problems are faced head on, illustrating a story of self-love realised.
A sense of place and the sentiments that accompany it have always been a crux of the RÜFÜS DU SOL's songwriting process. The band's debut album was recorded in Australia's idyllic east-coast while their sophomore 'BLOOM' LP was produced in Berlin. These environments imbue the record with a certain mood and flavor, 'SOLACE' is no different. Recorded in Los Angeles, the record exudes not the Hollywood glitz, but rather the shadowed lest oft seen underbelly of the city as well as the barren but beautiful spaces of the desert.

SOLACE's singular fusion of analogue sound design and emotional songwriting has earned early support from industry titans like Pete Tong and Zane Lowe, while the band were honored as Mixmag's cover stars this September.

The crux of RÜFÜS DU SOL remains the deep connection felt between the band and their dedicated global fan base in the live space. The band recently announced the beginning of a world tour in support of 'SOLACE' with sold-out plays at London's Printworks and Berlin's Astra Club, and a triumphant run of three back to back sold-out nights at the LA Shrine Expo Hall.
"The record is more personal and vulnerable than we anticipated. We had some of the most amazing times in the studio, as well as some of the most isolated, lonely times. That contrast naturally bled into what we were writing, which is why solace is our ode to finding peace in a time of distress." James Hunt
RÜFÜS DU SOL – 'SOLACE' Track List:
Treat You Better
Eyes
New Sky
Lost In My Mind
No Place
All I've Got
Underwater
Solace
Another Life
RÜFÜS DU SOL 'SOLACE' ALBUM TOUR – UK & EUROPEAN DATES:

29/11/2018 London, UK Printworks (SOLD OUT)
30/11/2018 Birmingham, UK The Mill
01/12/2018 Glasgow, UK Queen Margaret Union
02/12/2018 Manchester, UK Academy 2
05/12/2018 Amsterdam, NL Melkweg
06/12/2018 Paris, FR Le Trabendo
07/12/2018 Cologne, DE Bürgerhaus Stollwerck
08/12/2018 Berlin, DE Astra Kulturhaus

RÜFÜS DU SOL 'SOLACE' LP is OUT NOW via Rose Ave / Reprise Records