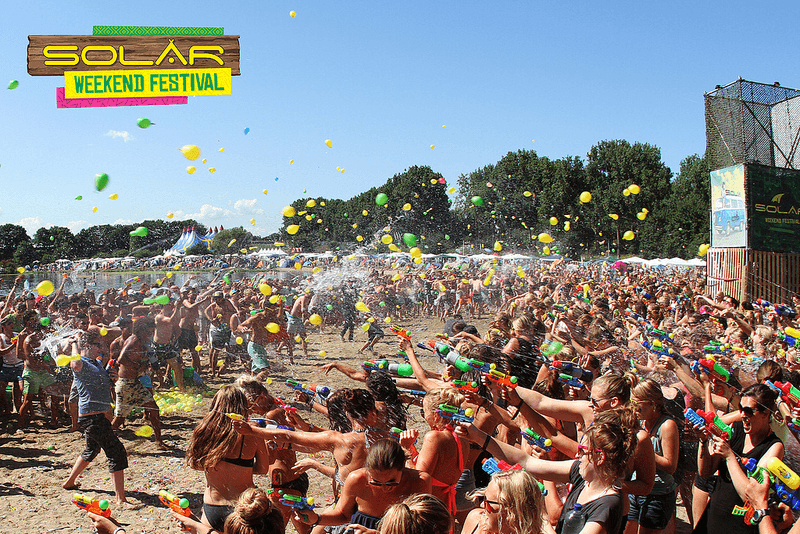 SOLAR WEEKEND FESTIVAL
Solar Weekend Festival celebrates its tenth anniversary with a 4-day festival at the enchanting Maasplassen Park in Roermond taking place from Thursday July 31st through to Sunday August 3rd. Beach camping, spectacular musical arenas, breathtaking surroundings, diverse musical direction and a penchant for forward-thinking creative entertainment earned Solar the "best multi-day festival of the Netherlands" at the prestigious Golden Gnome Awards earlier this year. The 2014 edition promises to supersede even it's own high standards with 27,000 people expected to visit the festival this year.
Musical Diversity
Spread over eight stages, Solar's diverse musical lineup comprises of everything from steaming house deep techno, energetic hip-hop, bass and dub and soul through to live electronic crossover acts. On the main stage are the irrepressible Bassnectar, disco re-inventors Hercules & Love Affair (who will play live) and I Am Legion – the highly regarded bass heavy project comprising of Noisia & Foreign Beggars, plus Great Minds and more. Elsewhere, some of the biggest names in underground house and techno are playing the event including Chicago's Green Velvet, Dutch bass man Bart B More, and techno titans including Dave Clarke, Berghain's Marcel Fengler, classic live duo Octave One and new school star Boys Noize.
Colourful Scot talent Hudson Mohawke also brings his big bag of ravey sounds, as does Balearic specialist Aeroplane, pure feel good house pioneers Shapeshifters and Dutch chart topper Gramophonedzie, whilst the underground vibes continue with Dutch man Joris Voorn – who has his very own stage featuring close friends. Enduring Tech legend Timo Maas and minimal stars Dominik Eulberg & Gabriel Ananda feature along with plenty more to look forward to along the monstrous array of talent.
Creative Solar Citizens
Over the last ten years Solar Weekend has grown from a progressive initiative to the most creative festival of the Netherlands. It is built by innovative young artists, designers and performers, aptly named 'Solar Creatives'. Every year anyone can sign up with creative ideas. These can range from unique stage & decor ideas, interactive theatre, graffiti art, unique installations, alternative catering and everything in-between. Over 1000 Solar Creatives come together with the Solar crew to build the festival – it's built by the people for the people. And the pleasure in building the festival, fuels a great creative society and energy – full of fun, humour, beautiful designs and performances for everyone who attends. Festival organiser Marcel Mingers had this to say;
"Solar Weekend is more than a festival. For the last ten years we have been building towards a totally new creative community and area. Solar Weekend is a springboard for the creative industry. Thousands of young creatives have built, created and performed at Solar Weekend, which is how Solar became what it is today. This prize is a crowning achievement for all the work they put in."
13,000 Weekend Holiday Tickets Sold Out
Like previous editions of solar, all 13,000 Holiday Tickets (which give full access to the Solar Weekend Festival and beach camping) have sold out well in advance. Day and weekend tickets for the festival are still available costing €49 and €79 (excl. fee) respectively.
Day and weekend tickets can be purchased at:
www.solarweekend.com
SOLAR WEEKEND FESTIVAL
Thursday July 31st – Sunday August 3rd
Maasplassen, Roermond, Eindhoven, The Netherlands
10 Years of Solar Weekend Festival