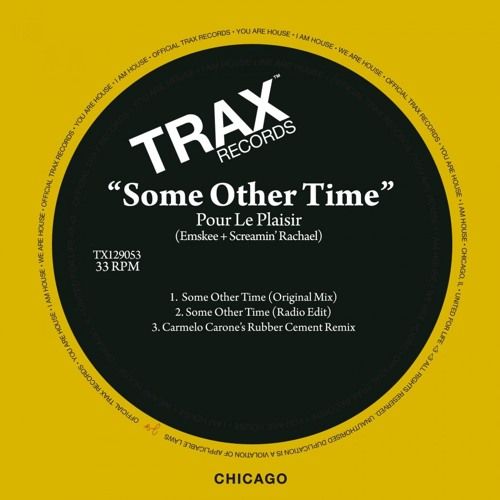 Pour Le Plaisir + Emskee + Screamin' Rachael - Some Other Time
Legendary house label, TRAX Records, returns to the dance floor with, 'Some Other Time', a classic, acid-tinged, hip-house track, produced by French DJ / producer, Pour Le Plaisir, featuring vocals from respected, New York hip-hop artist, Emskee and Chicago's Queen of House, Screamin' Rachael. TRAX Records kickstarted hip-house in 1987 with Screamin' Rachael's 'Fun With Bad Boys', and now, as Kanye West tops charts around the world with his Larry Heard sampling, 'Fade', the time is right for this collaboration to bring back the hip-house sound. Alongside the original mix and radio edit, renowned Italian house producer, Carmelo Carone steps up with two distinct remixes to complete another quality release from TRAX. With early tastemaker support from Jamie Jones "sounds cool", DJ SaF, Rob Boskamp, House of House radio and more, 'Some Other Time' is sure to find favour with lovers of house music in all its forms. Listen to the original and remix package now, here.
Co-founded by Screamin' Rachael Cain in 1984, the sound of TRAX Records has profoundly impacted dance music culture. In 2015, Beatport named TRAX as the Most Influential Dance Music Label in the world, and Time Out listed its '20 Best House Tracks', featuring no less than four TRAX releases, including Frankie Knuckles' seminal masterpiece 'Your Love' and Adonis 'No Way Back'. The TRAX team continue to find and release music they love, just as they always have done, never following trends, but always following their passion for electronic music.
French DJ/producer, Patrick G has been producing house music as Pour Le Plaisir since 2001, consistently honing his skills in the studio with releases on the likes of Moleskin Records, Opilec Music and Cockpitch Records, as well as under various other pseudonyms. With 'Some Other Time' he pays homage to the early sounds of house as he delivers a quality cut, with a stripped back, percussive groove, squelching bassline and darkly atmospheric chords. With a foot firmly on the dance floor, Pour Le Plaisir keeps building the track, adding layers to create some old school acid and serious hip-house vibes.
Back in 1987, in conversation with Afrika Bambaataa, Screamin' Rachael suggested putting a rap on a house record. This led to the Screamin' Rachael release, 'Fun With Bad Boys', produced by one of house music's originators, Farley Jackmaster Funk. Released on TRAX Records, 'Fun With Bad Boys' kickstarted a new hip-house sound, which quickly blew up across the US and UK, with artists such as Tyree Cooper ft Kool Rock Steady, Doug Lazy and The Jungle Brothers, produced by Todd Terry, all scoring big crossover hits.
The hip-house sound evolved with UK garage, grime and other genres, and most recently with Kanye West sampling legendary TRAX artist, Larry Heard a.k.a. Mr Fingers. So the time is right for TRAX to bring hip-house full circle as Emskee delivers an inspired rap, showing why he is held in such high regard within the NYC hip-hop community. Not to be outdone, Screamin' Rachael adds her own unique flavour, with both vocals bouncing off each other to great effect.
Carmelo Carone boasts an impressive 20 years playing on the coolest dancefloors around the world, and releasing on top labels like Henry Street Music, Karmic Power Records and of course, TRAX to name only a few. Carmelo takes over remix duties on 'Some Other Time' delivering two killer mixes. His 'Rubber Cement Mix' takes the acid house flavours of the original and brings them to the forefront. A driving mix of acid lead line, hi hats and percussion, provides the backdrop for the vocals before the warm synth pads lift the atmosphere even further. Carmelo's 'Pinball Fantasma Phantastique' mix takes a similar groove but brings the bassline front and centre. The vocals are chopped around and clanging synths interact with pinball machine-like clicks and bleeps to create an irresistible sound.

TRAX takes the baton for hip-house once again with 'Some Other Time', fusing it with classic acid house to deliver a quality sound of its own, guaranteed to fill discerning dancefloors around the world.

1. Some Other Time (Original Mix)
2. Some Other Time (Radio Edit)
3. Some Other Time (Carmelo Carone's Rubber Cement Mix)
4. Some Other Time (Carmelo Carone's Pinball Fantasma Phantastique Mix)
www.facebook.com/Pour-Le-Plaisir-98455709059
www.facebook.com/Emskeetalentsupreme1968
www.facebook.com/queenofhouse
www.traxrecords.net
www.facebook.com/TraxRecords
www.soundcloud.com/trax-records
www.twitter.com/TRAXRECORDS
www.instagram.com/traxrecords
www.traxrecords.net/bandcamp.htm