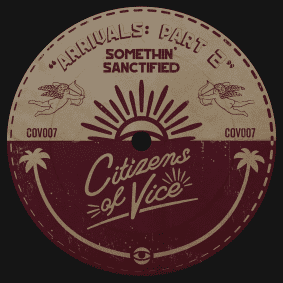 Somethin' Sanctified "Arrivals Part 2" – Citizens Of Vice (21-06-2019)
The multi-faceted Citizens of Vice label serve up a second fantastic offering of tunes from the Somethin' Sanctified duo of Simon Mills (one half of electronic duo Bent) and Joel Hood (International Feel).
This pair have a studio that brims with vintage gear and a collection of samples that is second to none. Their output spans two decades of playing the world's finest dance floors, they have worked together on each other's solo projects on International Feel and have a shared love of hardware-driven house and disco with real atmosphere.
Arrivals Part 1 was a huge success, with big support from DJ and Mixmag and the track 'Cya' from the EP being tipped as a possible house track of the year. BBC 6 Music have also given the duo's remix of Joyce Muniz & Little Boots plenty of airtime while Hot Toddy, Nick Warren, Jacques Renault and Ashley Beedle are also big fans.
The second superb EP kicks off with 'Soul Glo' which is a heart-warming track with spritely disco house drums and warped bass all topped off with beautifully angelic afro vocals up top that usher in summertime in style. The brilliant 'CuCuCu' is built on loose drum loops with rising melodies and breezy pads all lifting the spirits in perfectly sun-kissed fashion.
The deliciously deep 'Marzipan' then sinks into rolling drums and bass, with colourful and exotic percussive sounds up top all getting you in the mood to groove. Last of all is the blissed-out Balearic beat of 'White Blossoms' with its airy xylophones, meandering bass and dreamy vocals all soothing the soul.
This is another impossibly timeless and feel good EP of smooth house and disco sounds.
Tracklist:
1- Soul Glo
2- CuCuCu
3- Marzipan
4- White Blossoms