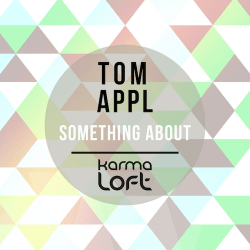 Tom Appl - Something About / Bachversuche
Karmaloft Music closes out the year with a fantastic double A-side single from Munich-based sound engineer Tom Appl. Tom's career as a DJ dates back to the early '90s with the sounds of tech, deep, and melody-infused house music. As a producer he has previously created productions and remixes under the pseudonym Fruitroom, and has frequently appeared on Karmaloft with acclaimed singles and remixes. "Something About" and "Bachversuche" further advance his sleek sound, providing a pair of floor-effective deep house cuts that blend in a number of satisfying tech elements.
"Something About" opens the single with a gentle bell-like melody before launching a tough and intricate rhythm section. A growling bass tone and thick stabs enter, and then a female voice speaks: "There's something about your smile … and the way you move when you're on the dance floor." This all combines in a slightly moody fashion, creating a strongly melodic track well-suited for intimate after hours moments. "Bachversuche" follows, once again introducing a pattern of bells much like its predecessor. The resemblance is quickly swept away by a memorable electric piano line and some smart, kinetic percussion accents. The cut builds steadily, further showcasing Tom's penchant for deftly fusing rhythmic arrangements and striking melodic sequences.