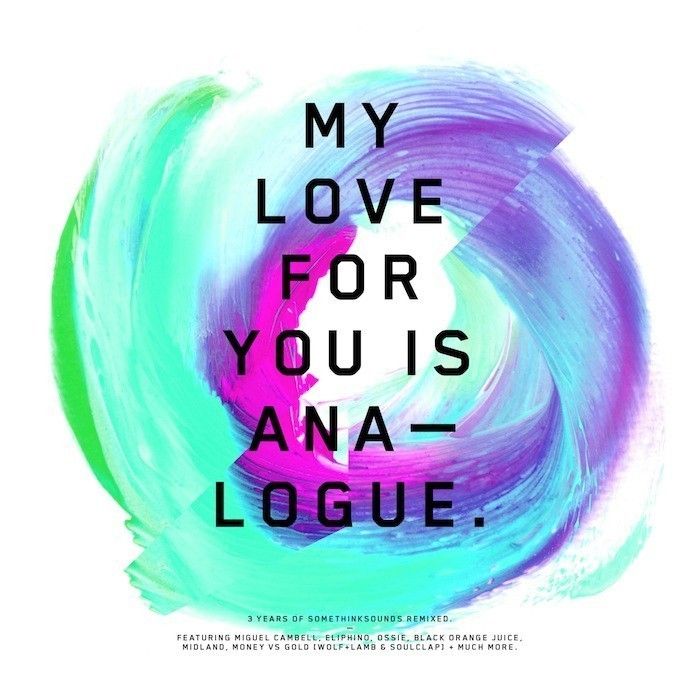 Somethinksounds – My Love For You Is Analogue
Originally an extension of the niche web-zine, somethinkblue, independent Berlin/London based record label somethinksounds has during its short space of time in our record stores, vinyl collections and music libraries, undoubtedly explored a deep geography and evolved to continuously embrace a wide palette of electronic music.
While somethinksounds forthcoming anniversary compilation "My Love For You Is Analogue" includes tracks ranging up to three years old, the selections highlight the label's timeless qualities. We're by no means insisting that a digital love would have been any less endearing, but "My Love For You Is Analogue" with its undiluted list of remixes sets an impressively wide perspective in a unique musical territory.
A glance through the impressive track listing that includes remixes lifted from successful 12"s such as Bwana "Baby Let Me Finish" and Black Orange Juice "Back Of My Car" shows that the core elements of the label are deep in garage, house and electronic territory alike, structured around attention grabbing vibes that have over the last three years fueled the labels development leading to a variety of support from Jamie Jones to Giles Peterson. Here you can expect melancholic deep house in conversation with the larger than life vocals that site proudly beside traditional garage rhythms.
Retrospective of its catalogue, Somethinksounds significant and unadulterated sensualism of how music should be presented and ultimately consumed was clearly captured during the guy's early Leeds days on the underground party circuit. The willful excesses of their wild Sunday daytime parties that were thrown shaped the attitude of the labels existence today. These attitudes have continued with them like dedicated travel companions to all corners of the globe including label events in Brazil, Croatia, Sweden, Holland and Germany.
As a label is it advisable to occupy the notably creative space somewhere between the lines of thoughtful electronics and more classic dance floor focused club jams? Well, the labels honest enthusiasm and inspirational direction of it's A&R have created a catalogue of genre blends, soulful mechanics all with a powerful groove never far away. Now "My Love For You Is Analogue" as a collection continues and celebrates its sterling association with quality productions.
Somethinksounds unwavering commitment to artist development has seen an array of production talent establish themselves as key players on the scene today.
Retrospectively somethinksounds have signed exceptional exciting talent in the form of bands, bass connoisseurs and bedroom producers alike, but isn't it a bit of a contradiction for such a distinctively forward thinking imprint with a close relationship with variety, to try cuddling older records up in new packaging?

Label Founders Kazim Kazim Kazim and Andy Lemay explain:

"They say 3 is the magic number, and so much has happened in the last three years. We've worked with so many amazing artists, built incredible relationships, championed great talent and been to some amazing places. The timing feels right, it feels like we're about to move in to the next phase of our journey, so much more incredible talent and music to put out – it seems only right to have a mini recap of what's happened and recontextualise the label."
Much of the fluid and harmonious crossover gems that have successfully made it past the labels tight quality control and smoothly surface have catered for a funky palate with charismatic originals and timeless reinterpretations. Assembled contributors and close label friends including Lucky Paul, Bwana and Black Orange Juice have helped somethinksounds carve out a vibrant niche, adding to its sprightly visual identity and eclecticism presented here with "My Love For You Is Analogue"
"MY LOVE FOR YOU IS ANALOGUE" will be released through Somethinksounds November 18th
Label Info: www.somethinksounds.com