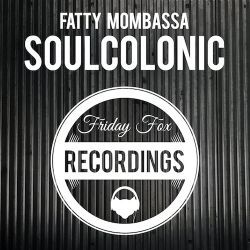 Fatty Mombassa - Soulcolonic
Friday Fox's mystery man Fatty Mombassa bounces back into the den this Spring with a monster jam dedicated to the art of sampling titled 'Soulcolonic'. Abound with his signature use of creative cut up vocal samples ,with a dose of humour thrown in, Fatty delivers a quirky, Jackin' feel-good groove. Freshly peppered with Techy resonating synths that ride over a bumping bass to work the floor, 'Soulcolonic' is primed to bring out the happy feet this season!
Fatty Mombassa's identity remains a bit of a mystery, all we do know is that the unique combination of old school sampling with fresh House production techniques has caused a bit of a stir the past 12 months. It's obvious that this man knows his musical onions and a long and worldly background in Disco, Funk and Soul has allowed Fatty to sample and produce with confidence. First appearing on Friday Fox's 'Sounds from the Den Vol.1'with the undeniably upbeat 'Be Good Do Good', Fatty Mombassa showed how sample based House music can still cut it. Another release forthcoming on Sounds From The Den Vol.2 is 'Weak', which has already won a lot of fans in the house music fraternity with the infectious vocal and infamous Fatty spoken word and due for release in May on Vinyl. Fatty's own single release for Friday Fox, 'Soulcolonic', is his most Jackin' sounding club track to date, as the label's reputation continues to build fans of real House music around the globe, this will certainly appeal.
Track Listing
1 Soulcolonic
'Soulcolonic' will be released on 18th April 2016 on Friday Fox Recordings