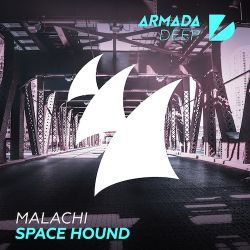 Malachi - Space Hound
After unleashing his debut solo smash 'Dream Of The Life' last year on Armada Deep, Malachi returns to the label ready to rock the socks off Miami 2016 (and beyond!) with his brand new single 'Space Hound'. With sun-drenched House vibes available in abundance 'Space Hound' is centred around a warm deep groove. It's lead by an infectious piano hook and uplifting chimes that dance over a back drop of delicious harmonics and atmospheric electronica and comes fully charged with a beautifully sophisticated Malachi breakdown.
'Space Hound" has been a six month 'labour of love' for me. I knew right from the moment I struck gold with the piano chords that I was onto a winner. The track originally had a vocal over the top but something was missing and I just couldn't figure out what. In the end I went back to the drawing board and decided to let the music speak for itself. I went to town with some extra production using atmospheric textures and soundscapes so much so that it sounds nothing like the original. I'm well pleased with it! – Malachi
Manchester's Malachi (aka Audiowhores, Graham Lord, Word of Mouth) has been a DJ / Producer since 2000. "Malachi" is the new frontier for this well established artist . Earlier productions saw release after release as Audiowhores alongside partner Adam Unsworth on Soulfuric, Peppermint Jam and MN2S, collaborating with the likes of Kathy Brown, Julia McKnight, Ce Ce Peniston, Barbara Tucker and Loletta Holloway on vocals. Fast forward 7 years and you'll find a quantum leap from Soulful House to Tech / Deep House. What followed can only be described as an onslaught of releases for the mighty imprints Defected, Toolroom, Noir and Lapsus Music, featuring collaborations with Stee Downes, The Shapeshifters, Joey Negro, Alex Mills, Mr V and more. In 2015 Malachi launched the first single under his new guise, an emotive slice of Deep House titled 'Dream Of The Life' on the giant dance music label, Armada Deep to great acclaim. Back on Armada Deep once again with brand his new track 'Space Hound' and 'Love Break EP' forthcoming on Low Steppa's Simma Red label, along with releases set for Milk & Sugar and Favouritizm labels, 2016 is already shaping up to be an exciting year for this talented Manc!
Tracklisting
1 Space Hound
'Space Hound' will be released on March 31st 2016 on Armada Deep.