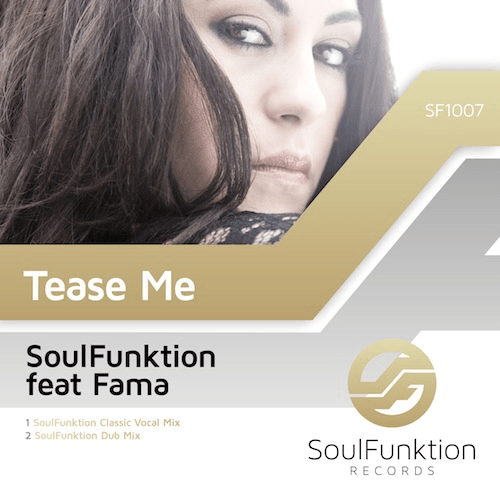 SoulFunktion feat FAMA 'Tease Me'
UK production duo, SoulFunktion, who are gathering some serious momentum on the house scene, reveal their 7th single on their own label – a delicious soulful outing 'Tease Me', featuring the gorgeous FAMA on vocals.
'Tease Me' is a classy slice of Latin tinged house, laced with warm Rhodes, sun-drenched piano vibes, cheeky brass stabs and a bed of percussive beats rolling under FAMA's seductive vocal. Also on the package is a tasty Dub which sees the boys inject a sublime West Coast House flavour, armed with bubbling synths and bouncing baseline, ripe for the deeper floors.
SoulFunktion is a collaboration between long standing London based DJ Wally Walton and the legendary UK House producer Brian Keys Tharme. First having worked together in the 90s on releases for a variety of labels including Sweat, Narcotic and Catch Records (in which Brian was a partner with Gavin Face Mills of Copyright fame), the boys are now back together with their 25 years of experience at the top of the UK club scene to bring you their new productions. In the intervening years, the boys have worked on remixes for some of the biggest names in House Music including Tuff Jam, En Vogue, Kristine Blonde, Usher, Tina Moore, CeCe Peniston, Juliet Roberts and Craig David to name a few. Brian has also played keyboards in the studio for the likes of Dave Lee (aka Joey Negro), Bobby & Steve and Booker T. During the same period DJ Wally could be found playing at the best clubs and parties on the London scene, including being resident at the notorious Roller Express rave venue throughout the 90s and more recently The Pirate Club and Black & White, and presenting a show on Pressure Radio and guesting on London's Passion FM.
Francisca Thomas aka FAMA is a singer/songwriter from Cape Town, South Africa. She was signed to EMI Records in 2003/4 and released an album in South Africa. Francisca now resides in London, UK. Some of Francisca's co-writes include Kenny Thomas' single – 'The Show Is Over', Ema Baguzaite's 'One Chance' and 'If You Don't Care' for Cool Million. As a recording artist releases include Redemption ft Francisca – 'Drifting Away', Mark Wilkinson vs Danny Kirsch ft Francisca – 'Incredible' and a cover of Anita Ward's 'Ring My Bell'. Francisca is a seasoned session vocalist and has performed alongside artists such as Alexander O'neal, Errol Reid (China Black), Jacqui Graham, Gwen Dicky, Rose Royce, Kenny Thomas, Imagination (Leee John), Patrice Rushen, Beverly Knight, Aswad, Omar and Adeva. Francisca is currently writing and recording her own EP which will be released early 2014.
Track listing
1 Tease Me – Soulfunktion feat Fama (Soulfunktion Classic Vocal Mix)
2 Tease Me – Soulfunktion feat Fama (Soulfunktion Dub)
'Tease Me' will be released on September 27th / full release on October 11th 2013 on SoulFunktion Records
https://www.facebook.com/soulfunktionproductions