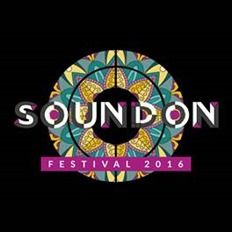 SOUND ON FESTIVAL ANNOUNCES HEADLINER AND FINAL LINEUP
Two-day dance music festival announces Saturday Main Stage headliner, German deep disco pioneer, Tensnake. Also confirmed for the Sound On lineup are Tania Vulcano, Tom Zanetti & K.O Kane, Hector Couto, Charlie Sloth, Ellie Cocks, Lindsey Matthews, Eibhlin Flynn (Hed Kandi), Phoebe d'Abo (Hed Kandi), Stefflon Don, Brandon Block and Alex P.
Sound On Festival, has announced its full lineup including Saturday night headliner. Crowds attending the 2 day dance music extravaganza, on 13th/14th August will not be disappointed as hugely influential German DJ, Tensnake, takes to the Saturday night Main Stage headline slot to deliver an unforgettable set. Also announced are Queen of DC10, Ibiza's underground house and techno star, Tania Vulcano, rising stars of house and bass Tom Zanetti & K.O Kane, Spanish underground house head, Hector Couto, BBC Radio 1's urban music don, Charlie Sloth, as well as Ellie Cocks (Abode), Lindsey Matthews (Abode), Eibhlin Flynn (Hed Kandi), Phoebe d'Abo (Hed Kandi), Stefflon Don and dance music legends, Brandon Block and Alex P.
The new announcements join a huge weekend lineup that includes, Krept & Konan, Fuse ODG, Chip, Huxley, Alexis Raphael, Anja Schneider, Leftwing & Kody, Artful Dodger, Majestic, Fabio & Grooverider, Marshall Jefferson, Miguel Campbell, David Zowie, Robert Dietz, Yaya, Vato Gonzalez, DJ S.K.T, Toyboy & Robin, No Artificial Colours, Cirillo (Circo Loco), Neverdogs, Javi Bora, Randall and many more, spread across 4 stages, at Essex Sports Village, a 48 acre greenfield site in Purfleet. New ticket prices, deliver the best value festival of the summer. Earlybird tickets are available for as little as £20 (£35 VIP) for each day, or £40 (£55 VIP) for a weekend ticket, from www.soundonfestival.com. Where else can you see a lineup like this for a price like that?
Tensnake steps up to headline the Sound On Main Stage on Saturday. Marco Niemerski a.k.a Tensnake, has firmly established himself as one of the most influential players in house music. Credited with kickstarting the current deep house scene, the New York Times described his sound as 'highly precise modern disco'. His 2014 album 'Glow' included collaborations with Nile Rodgers, Stuart Price and MNEK among others, while his list of remixes, includes the likes of Lana Del Rey, London Grammar, Pet Shop Boys, Goldfrapp, Scissor Sisters and more. When Tensnake gets behind the decks the Sound On crowds are guaranteed something special.
The Doll's House Stage on Saturday will be headlined by none other than Tania Vulcano. As resident at CircoLoco since 1999, Tania Vulcano is one of the most respected names in underground house music. She has provided the soundtrack for a generation of Ibiza adventures and has taken her deep, percussive house and techno sound worldwide. This incredible Uruguayan DJ / Producer has a pedigree and ability to move a dancefloor that few can match.
Tom Zanetti & K.O Kane are fast rising stars who are all set to show what they can do on the AC Presents The Trip stage on Saturday. Zanetti is a vocal MC, producer and runs infamous Leeds night Sleepin Is Cheatin, while K.O Kane is renowned for his sets of infectious, upfront house and bass. Put them together and the Sound On crowds better be ready to dance!
Sound On Festival brings Charlie Sloth to the Main Stage on Sunday. The BBC Radio 1's voice of rap, grime and hip hop, has become a focal point for urban music in the UK and is guaranteed to get the crowds seriously jumping!
Hector Couto takes to the decks on the Dazed Stage on Sunday to join a top class lineup. With releases on influential labels including Get Physical and Hot Creations, the Spanish DJ / Producer has firmly established himself as one of the rising stars of underground electronic music. Now in demand around the world, Sound On looks forward to experiencing his passion, vibe and positive energy.
Also on Sunday, hot new talent Stefflon Don takes to the main stage to show off the vocals that have seen her featured on K Koke's big new track 'I'm Back Again'. Her vocals on the forthcoming Mason track 'Fashion Killa' on Island Records will see her seriously blow up. Catch her first at Sound On.
The Doll's House Stage on Saturday will also receive a serious boost of names completing a stunning line up of all female talent. Added to the lineup are Abode London's cutting edge resident, Ellie Cocks with her unique brand of tech house and grooving basslines. Joining her is Abode Ibiza resident, Lindsey Matthews, set to drop the best in current techno. Rising Irish star and Hed Kandi favourite Eibhlin Flynn will take to the decks to deliver some cool house vibes. Phoebe d'Abo, another Hed Kandi star currently blowing up, will step up with her brand of chunky house for the dancefloor. Add in the previously announced Karen Harding, Kelli Leigh and Charlie Tee and the Doll's House Stage is going to be rocking from start to finish!
Dance music legends Brandon Block and Alex P will be dropping the club classics in the VIP area on Saturday. During the 90s both these DJs were ubiquitous, holding down residencies at the best clubs in the UK and in Ibiza. Alex P is credited with creating the terrace at Space, when he had the idea to move the decks outside during his time as resident. Brandon Block went on to enjoy crossover chart success with his Blockster alter-ego, hitting #3 with 'You Should Be…'. Together they presented an anarchic KISS FM radio show from 1996 to 2002 sending ratings through the roof. Both are now recognised as significant names in the evolution of dance music.
Sound On Festival Director, Danny Swallow comments:
"Sound On Festival 2016 is going to be one to remember. We're very excited about Tensnake, Tania Vulcano, and the other artists we've added to the lineup today. We've worked incredibly hard to ensure the most talented artists out there will be stepping on to the Sound On stages. We've also done all we can to make sure Sound On ticket prices offer the best value around this summer."
Sound On Festival is one of the most exciting new names on the festival scene, offering a hugely impressive lineup and ticket prices that can't be beaten. The Sound On team have lived and breathed electronic music for three decades and, over both days, the diverse Sound On lineup reflects this, taking in numerous genres, including acid house, US house, garage, drum 'n' bass, techno, tech house, deep house, bass and its contemporary crossover with grime and hip-hop.
Essex Sports Village will be transformed, with boutique food and drink outlets, champagne and cocktail bars and stylish chill out areas, helping make Sound On Festival a must-visit event.
For up-to-the-minute information about Sound On Festival 2016, visit the website www.soundonfestival.com, or follow Sound On on Twitter @SoundonFestival and facebook.com/soundonfestival.
www.soundonfestival.com
www.facebook.com/soundonfestival
www.twitter.com/SoundonFestival
www.instagram.com/SoundonFestival