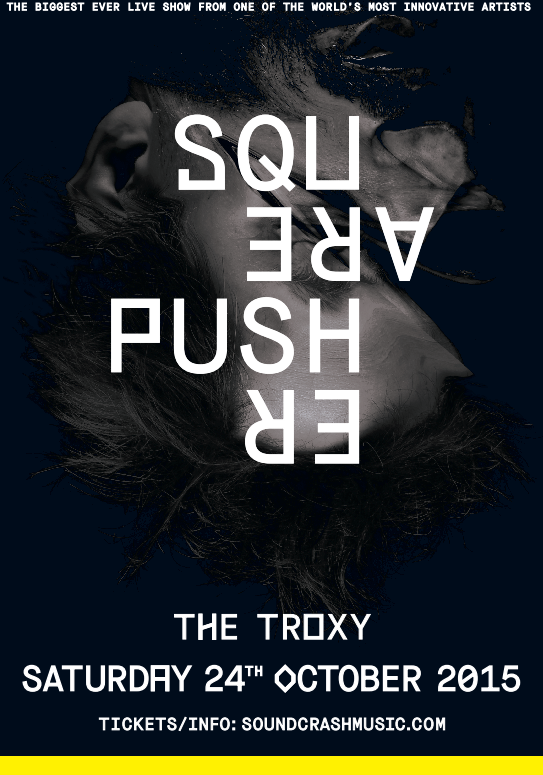 SOUNDCRASH PRESENTS…. SQUAREPUSHER
Soundcrash is very proud to present the biggest ever live show from one of the world's most innovative artists – Squarepusher. After selling-out the Barbican with over 2 months to go, Squarepusher heads to The Troxy to show off the eagerly anticipated new album, Damogen Furies, and present an exciting array of new material, some mind-bending classics, a gathering of extremely special guests and the biggest live show he has ever produced.
Ever since his earliest sonic experiment, Squarepusher has always sought to explore the limits of electronic music. Damogen Furies, released 20th April on Warp, was made in a single take without edit, and as Squarepusher himself explains, "Through this record I aim to explore as forcefully as possible the hallucinatory, the nightmarish and the brutally visceral capacities of electronic music." A heady concoction of pumelling breakbeats, analog synthesis and free jazz (thanks to his virtuosic skill on the bass guitar), Squarepusher has created one of the most recognisable sounds in the world of electronic music.
This revered producer, plus his very special guests, will continue to push the boundaries of electronic music for an unforgettable night at The Troxy.
"Bracing stuff… immediately standing out amidst songs running at pop's usual pace, especially when paired with equally oddball and arresting barrages of imagery."
– Pitchfork
"A virtuoso on bass guitar as well as analogue and digital machinery…Squarepusher has consistently brought a freewheeling jazz mentality, a sense of humour and a jaw-dropping technique." – BBC Music