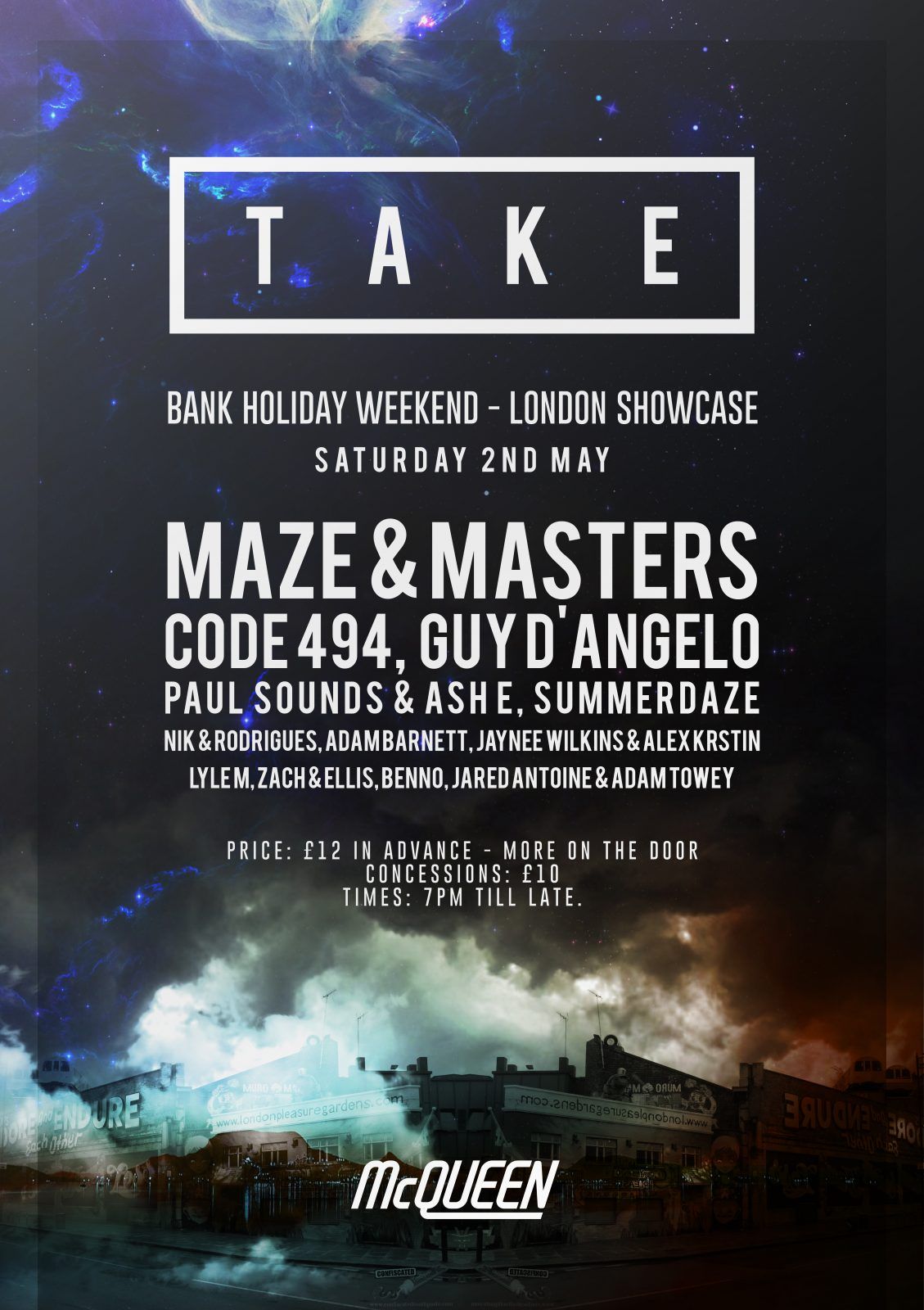 Take at McQueen – Bank Holiday London Showcase
This bank holiday May, we're extremely excited to commence our brand new residency set in the heart of the nation's capital. McQueen, winner of 2014's Best Bar award in the London Club Awards is a Shoreditch venue that sets the benchmark for an all in one entertainment venue that consistently delivers on all levels. With the same ethos shared in innovation and a standard of high quality, Take & McQueen is partnership perfectly matched and we cannot wait to get started.
On Saturday 2nd May we introduce Take to London. On the night we showcase the Take brand & philosophy as we pay homage to the talent of the great London scene, joining us our friends, residents and industry favourites in surroundings complemented by a carefully picked line up that shares our overall values. This Bank Holiday join us as 'Take' London for the first time at McQueen. Advance tickets are available now from all leading ticket outlets.
Maze & Masters
Code 494
Guy D'Angelo, Paul Sounds & Ash E
Summerdaze, Adam Barnett, Zach & Ellis
Lyle M, Nik & Rodrigues, Benno,
Jaynee Wilkins & Alex Krstin, Adam Towey & Jared Antoine
Tickets: £12 in advance | more on the door
Concessions: £10
VIP & table booking enquiries:
[email protected] | [email protected]
http://www.facebook.com/thisistake
Tweets by ThisIsTake
http://www.instagram.com/thisistake