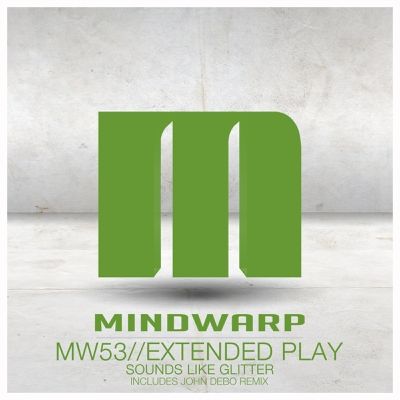 Extended Play - Sounds Like Glitter / Sunset Strip
Just as the chill of the northern hemisphere winter 2016 sets in, John Debo's Mindwarp imprint awakens after a near 18 month hibernation with a bear of a release from Josh Dupont & Dan Snow aka Extended Play. Not to name drop, but their work has already featured on labels such as Bedrock, Crosstown Rebels, Fade & Prisoner of Love. Quite an impressive feat for a couple of boys from Houston, Texas.

The title cut, 'Sounds Like Glitter', opens with a powerful bass groove, slowly evolving with soft, percussive melodies to a killer breakdown where Dan's classical and jazz musical training shines through with his intricately interwoven guitar riffs & melodies. Not straying from the musicality of the original for a moment, Mindwarp bossman John Debo goes full steam ahead delivering both a remix and heavier dub version, already garnering early support from John Digweed on his globally syndicated Transitions radio show.

Rounding out the package, 'Sunset Strip' picks up where 'Sounds Like Glitter' leaves off. More interwoven melodies, big percussion, and attention to detail translate into another deep, meandering affair comfortably at home on any of the world's underground music stages, regardless of how large or small.
Extended Play Info:
https://twitter.com/EP_Muzik
www.residentadvisor.net/dj/extendedplay
https://soundcloud.com/extendedplay-music
https://www.facebook.com/extendedplaymusic

John Debo Info:
https://twitter.com/johndebo
http://instagram.com/johndebo
https://facebook.com/johndebo
https://soundcloud.com/johndebo
http://residentadvisor.net/dj/johndebo

Mindwarp Records Info:
http://mindwarprecords.com
https://twitter.com/mindwarpdigital
http://instagram.com/mindwarpdigital
https://facebook.com/mindwarpdigital
https://soundcloud.com/mindwarpdigital
http://residentadvisor.net/record-label.aspx?id=849