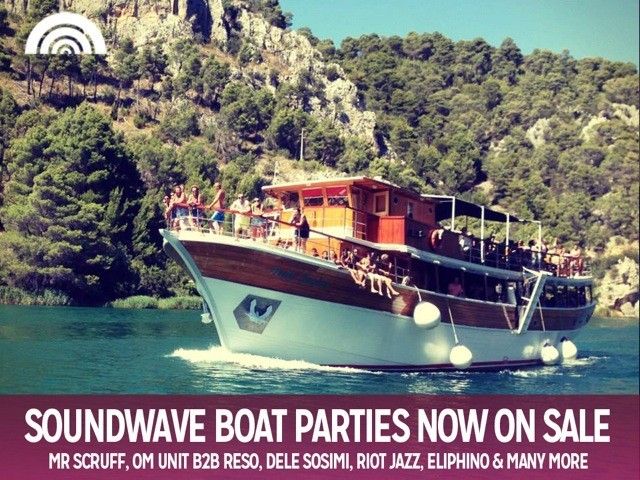 Soundwave Festival Croatia 2014: Boat Party Line-ups Announced
Europe's most beautiful, boutique music event, Soundwave Festival Croatia is back for its 6th year and announces the first few names on a line up as eclectic and exciting as the last, led by Fat Freddy's Drop, Gold Panda, Gentleman's Dub Club, Om Unit and Eliphino. The full line-up will be announced in early 2014.
Set in a secret cove at the heart of the Dalmatian Coast of Croatia, the idyllic fishing town of Tisno is a beautiful backdrop to one of Europe's finest independent festivals. This sun-drenched area of Croatia sits just slightly away from the incredibly beautiful Krka Waterfalls (National Park).
Heralded as one of Europe's Best Music Festivals by The Independent, Soundwave Festival Croatia makes the most of it's bountiful setting year on year with its boat parties, beach stages and club nights for a long weekend of guaranteed sunshine in the aptly named 'The Garden'.
Fresh off the back of releasing their highly anticipated new album ' Blackbird', 7-piece New Zealand outfit Fat Freddy's Drop have been added to the first line up announcement, alongside Gold Panda who made headlines in 2013 after the release of his critically acclaimed 'Half Of Where You Live'. Gentleman's Dub Club and Huey Morgan also feature, alongside standout performers from last years festival; Om Unit, Eliphino, Riot Jazz and Andrew Ashong; Om Unit's 'Threads LP' looks set to fill many Best Of lists come the end of the year and Ashong's Theo Parrish produced hit 'Flowers' has already started reigning in accolades as 2013's stand-out track, as he approaches his debut album. Rounding up a typically diverse Soundwave line-up are Anushka and Dele Sosimi, the latter set to deliver a tribute to the legendary Fela Kuti.
Spread over five days, three festival stages, the Argonaughty ship and legendary open air after-party spot, Barbarella, Soundwave Festival Croatia delivers the perfect setting for the finest in left-field electronic and live music. Festival-goers can expect to hear hip-hop, dub, afro-beat, soul, house and everything in-between.
Every year the festival's boat parties provide some of the finest summer highlights, the site has its own dock, seconds from the main stage, from which The Argonaughty embarks on a Funktion 1-powered tour of the Dalmatian coast, taking in the delightful Komati Islands on a three-hour journey of music.
As well as offering opportunities to camp, Soundwave encourages its festival-goers to explore the setting by taking apartments in the town, presenting the chance to discover some of the finest Croatian cuisine and drink. The heritage and history of the area is embraced by organisers who also enjoy the annual donkey races!
The festival sits neatly between Zadar and Split airports, allowing festival-goers to fly in from all over Europe. Transfers will be available to book throughout the festival.
Tickets:
Early Bird advance tickets £101.20 – nearly sold out
Advance tickets £137.50
All tickets / info http://soundwavecroatia.com/
Soundwave 2013 Highlights video: https://www.youtube.com/watch?v=NyrnQnc7LF0&feature=youtu.be
https://www.facebook.com/soundwavecroatia
https://www.facebook.com/events/381103688640606/
@SoundwaveCro