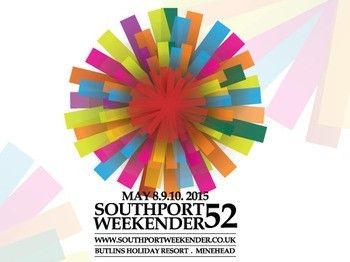 Southport Weekender announce 52nd edition
Respected festival promoters Southport Weekender have been consistently showcasing the finest dancefloor grooves for over twenty-five years. Celebrating innovators, influencers and tastemakers across the spectrum, Southport Weekender joins the dots between seminal scene figures and the freshest rising talent for their three-day weekender at Butlins in Minehead.

Now approaching their fifty-second edition, Southport Weekender 52 will take place from 8th – 10th May 2015, offering a hefty programme of dancefloor-focused sessions to the famously friendly crowd, with sets from the likes of Masters At Work, Kings Of House (Louie Vega, David Morales and Tony Humphries) Kerri Chandler, Black Coffee, Marcellus Pittman, Deetron, Seven Davis Jnr, DJ EZ, Mistajam, Nightmares On Wax, Henrik Schwarz, Bontan, Chez Damier, Trevor Nelson, Joey Negro, David Rodigan, Swindle and many more…

Encompassing Southport Weekender's progressive ethos are festival headliners Masters At Work, the house-garage production and remix duo of Louie Vega and Kenny Dope. Now celebrating over 20 years at the forefront of club culture, the two New Yorkers defined the house sound of the 1990s with their inventive production style that blends the worlds of house from hip-hop to techno and everything in between – and will close the festival in Sunday's 'Powerhouse' Finale.

Louie Vega of Masters at Work will also perform with close friends David Morales and Tony Humphries via their Kings of House partnership having first launched in Miami in 2012. Each individually recognized for playing an important role in shaping the course of house music as we now know it, the Kings of House promise to deliver a seasoned combination of new music sprinkled with old school classics at this year's festival.

A further back-to-back set from bona fide legends Kerri Chandler and Chez Damier is also scheduled, with each demonstrating their undeniable ability to craft forward-thinking electronic music – with house pioneer Black Coffee and fellow South African Culoe De Song also confirmed. Prescription Records head honcho considered to be one of the architects of the Chicago music scene, Ron Trent, will also feature, whilst French native The Reflex will be on hand to breathe new life into soul, pop and disco classics.

Amongst names that represent a new breed of producers referencing the classic US sounds of their influential predecessors at Southport Weekender is Seven Davis Jnr. A trained gospel vocalist, the American producer is renowned for fusing futuristic sounds with traditional influences that consistently push boundaries – with his taste for various strains of funk, disco and hip-hop most famously demonstrated in his 2013 release of 'One'. Similarly, Swiss DJ and producer Deetron will also feature, serving up his twist on warm techno with the soul of Detroit – as well as Henrik Schwarz, who will be performing live.

Heading up the festival's more bass-driven offering are iconic UK Garage producers DJ EZ and Grant Nelson, as well as BBC Radio 1 representatives Trevor Nelson and Mistajam – all of whom will deliver an amalgamation of classic and upfront bass music with all its ever changing sub-genres of hip-hop, dubstep, R&B and house. Northern up-and-comer Bontan – whose notable remix of Josh Butler's 'I got a feeling' made serious waves last year – will also feature, and promises to deliver some bass heavy, melodic house music.

The original reggae selector and sound clash champion David Rodigan will indulge fans with the very best in cutting-edge reggae and classic cuts, along with Leeds composer Nightmares on Wax – the inescapable moniker of George Evelyn who's affiliation with UK hip-hop and its sub genres has spanned over 25 years. Rich Medina is also scheduled to play an exclusive hip-hop set, and will be joined by a true ambassador of urban music – Ronnie Herel – as well as Sadar Bahar, Mr Mendel and Kyodai.

With Southport Weekender exploring 360 degrees of electronic music, the festival also extends its offering to a range of live acts with a distinctly soulful sound. UK singer songwriter Jarrod Lawson is amongst the first live acts announced, and will be joined by Swindle – instrumentalist/producer and purveyor of Gilles Peterson-approved, jazz-flavoured dubstep. With Shaun Escoffery and Reel People also billed, a further live act announcement is imminent with a host of influencers and tastemakers soon to be revealed.

Undergoing a twelve million pound facelift, chalets at the newly refurbished Butlins resort are selling fast, with limited tickets remaining for Southport Weekender's anticipated Sunday night after party.
EVENT DETAILS.
Southport Weekender 52
Date: Friday 8th – Sunday 10th May 2015
Venue: Butlins, Minehead, TA24 5SH

TICKET INFO.
All tickets available via www.southportweekender.co.uk/store

£215 per person for self-catering with living room. – 4, 6 and 7 person chalets available
£195 per person for room-only – 2, 3, 4, 5 and 6 person chalets available
£25 per person for limited Sunday night after party ticket