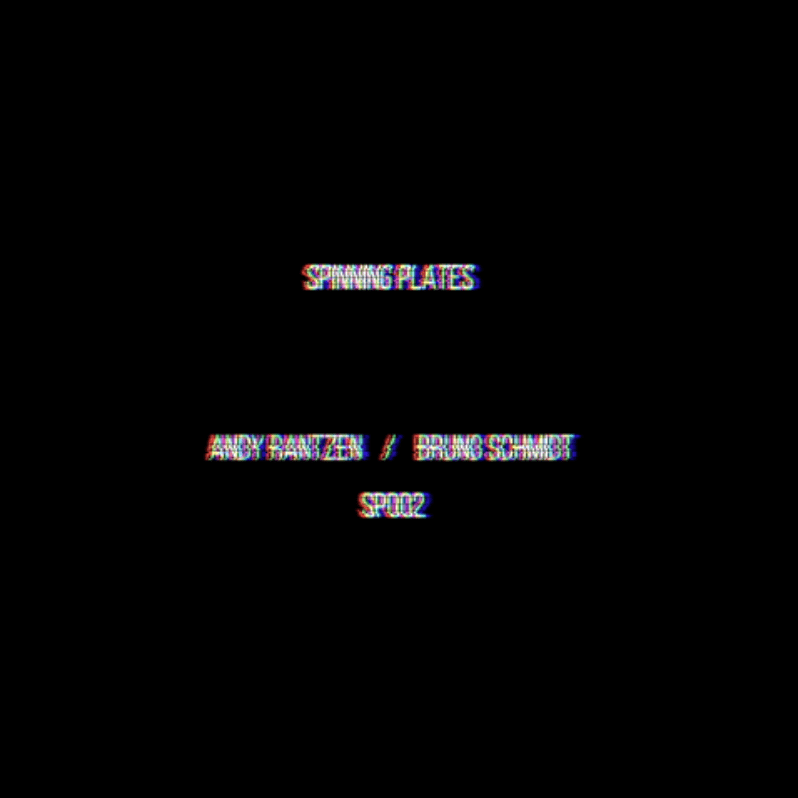 Andy Rantzen & Bruno Schmidt - SP002
The first Spinning Plates EP back in February was picked up by print media and radio tastemakers from RA and DJ Mag to B.Traits and Moxie, whilst DJs as diverse as Ivan Smagghe and Francois K slotted it into their DJ bags. As such there has been much demand for a second release, and now it arrives in the form of a fascinating split EP from scene veteran Andy Rantzen and relative newcomer Bruno Schmidt, who helps A&R for the label.
In fact it was Bruno who came across Andy's tracks during a late night YouTube session. Andy, who remixed INXS and Severed Heads back in the day and is a Sydney based producer who has been active for three decades, had upped a load of his old demos to YouTube in the faint hope that one day someone might find them. And boy are we happy he did, because they are brilliant affairs that sound like little else. For his part, Bruno has been a Louche resident and Hifi Creator alongside Andrew James Gustav and Gwenan.
Up first, '98%' is from 1999 and uses Tibetan tuning, which gives it a slightly uncanny melodic field, and the title refers to the amount that the tracks are quantised on Andy's Kurzweil K2500 workstation. It's a deep, sonorous house affair with feathery snares and sonar like synth pulses that make for a soft and inviting sound world. Odd bird calls and tender keys add to the sense of depth as this one sucks you in further and further.
Then the excellent 'Opalescent' says Andy, "is a collaboration from 1991 with a couple of loners, Pam Thomson and Paul Bambury, who called themselves Trancendental Anarchists. We wrote many tracks together, some of which came out on Silent Records (San Francisco) and Volition (Sydney)." Paul Bambury has since passed away so there is an added poignancy to this release some 24 years later. 'Opalescent' is again a soft focus cut with lots of round edges, this is a more kinetic proposition with ticking drums and perc and rainy melodies that fall down the face of the track with magical, emotional results.
The first of Bruno's two singular offerings is 'Cornbread' a truly trippy bit of electronic music with alien noises, expert sound design and a range of sine waves and timbral techniques that make it prime Perlon style minimal techno. 'Microdot' is again another thoroughly absorbing track full of lovely weirdness, wavy tones and wood pecker like hits that are always evolving and shifting in pattern as the track unfolds. Perfect for cool Berlin basements and marathon Villalobos sets, it rounds out what is another fine EP that is once again likely to turn heads far and wide.
Tracklist:
1. Andy Rantzen – 98%
2. Andy Rantzen & Trancendental Anarchists – Opalescent
3. Bruno Schmidt – Cornbread
4. Bruno Schmidt – Microdot