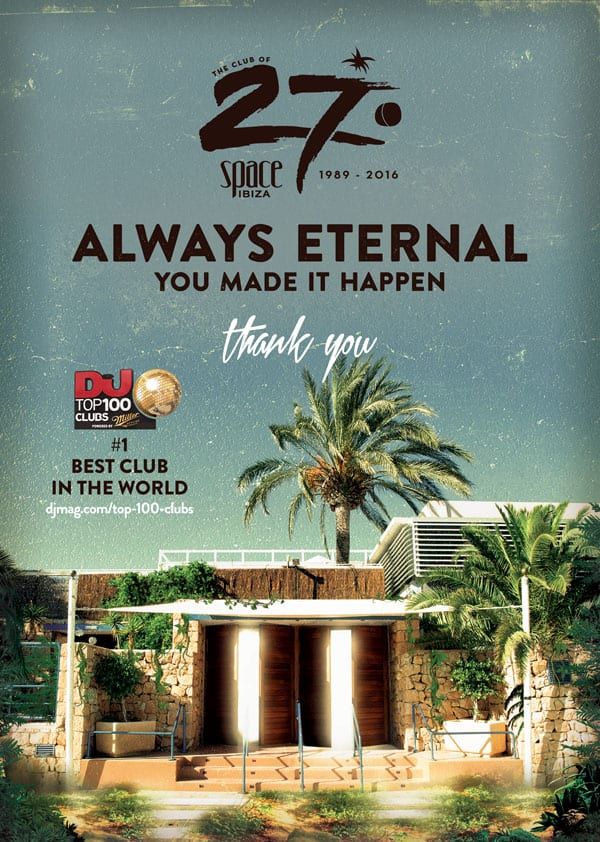 Space Ibiza "Best Club in the World" once again…
As everybody knows, last summer was their last season in the mythical venue of Playa d'en Bossa. After 27 years bringing to the crowd the best of ourselves they have won again one of the most important awards in the electronic music industry: "Best Club in the World" by the prestigious specialized magazine DJ Mag.
It is true that this award is not new for them, in fact, last year they also won the first award, they have also received it on previous occasions, but that they win it in honor of the great effort that the Space team made in its last season, it cannot make us happier. And of course, that they achieve this recognition is thanks to the great team that has been behind Space, but above all, you have made it possible. It is you who have made us the most awarded club in the world and have made it possible for Space to be synonymous with "the mecca of electronic music".
Who was going to say to Pepe Roselló, who when he landed in Playa d'en Bossa that area was practically a desert and also, it seemed crazy to build there any business, that would manage to mark the beginnings and ends of the season in the islandand that millions of locals and people coming from all over the world, summer after summer, start a true pilgrimage to the club that made them feel at home.
They can only reiterate our pride and gratitude for these 27 years of undeniable love for music.
www.spaceibiza.es