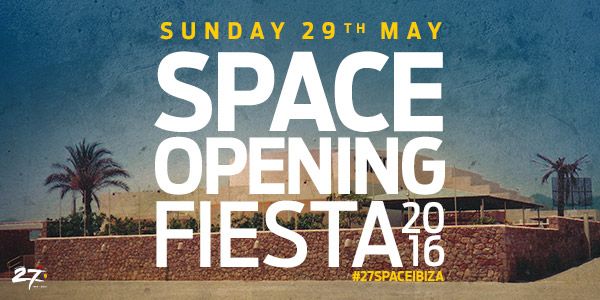 Space Ibiza unveils its ultimate Opening Fiesta Lineup
It cannot be disputed – The Space opening fiesta is THE ultimate start of the Ibiza season. Come and be part it for the very last time.
"The experience of these last years for the club has been to witness, record and file unrepeatable memories and music that has marked a whole era…" Pepe Roselló
The Space Opening Party signals the start of the Ibiza 2016

SPACE IBIZA is the front runner to the start of the Summer, whilst the Island's wide array of brands, clubs and venues begin to plan, Space Ibiza is proudly poised ready to signify the commencement of the Ibiza season with its now legendary opening event. For 27 years Space Ibiza's opening party has left an unforgettable global footprint, countless memoires and feelings of love, togetherness and excitement for millions fans around the world.
Traditionally marking the start of the Ibiza summer clubbers religiously fly in from all over the world, from Europe to The USA and further a field – all coming together to dance, celebrate and enjoy some of the best DJs and electronic artists the scene has to offer.
Throughout a multi-roomed spectacular the white isle's most coveted club is completely transformed from cavernous venue into a festival of music hosting a breathtaking array of DJs. Not limited to indoors… Space's open-air car park is transformed into a huge dancefloor which will host DJs such as Steve Lawler, Sasha and Erick Morillo all hold court in spectacular fashion.
As Space marks its 27th Anniversary in 2016 this final installment of the opening fiesta will carry even greater significance, this is the ultimate opportunity to dance on the mythical dancefloor before the international clubbing institution and legendary Ibizan hallmark draws to a close.

TICKETS AVAILABLE HERE