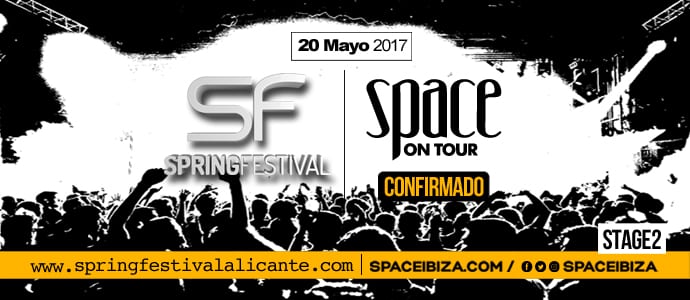 Space On Tour – Alicante Spring Festival 2017
Space On Tour continues its journey around the world and this time is proud to announce that it is confirmed a date in Spain, specifically, Space On Tour will be present on 20th May at the Spring Festival 2017 in Alicante.
The festival that celebrates its 9th edition has positioned itself as one of the best festivals in Spain. This Spring Festival 2017 returns with a new concept and a poster of artists of the first level that will allow more than 10,000 people to enjoy a unique weekend.
On this occasion, in addition, the event is focused on musical quality and fun. So, Space On Tour could not miss, in particular, will take over the stage number 2 and will do with the best electronic music of the hand of the best DJs where, of course, the essence of Ibiza and Space will be very present.
Camilo Franco, Space DJ resident, has already confirmed his attendance for next May 20. The rest of artists will be confirmed in the next few days.
The event, held in the Port of Alicante, has two very different scenarios. While Space On Tour will bring the best electronic music. On the other stage will be playing groups like Love of Lesbian, Fuel Fandango, Amatria or Viva Suecia.

Opening and closing doors: 14:00h – 06:00h
Tickets: springfestivalalicante.com/