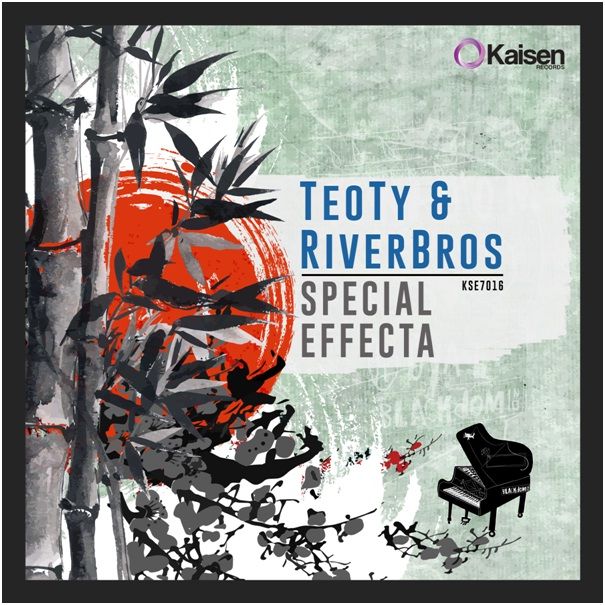 TeoTy & RiverBros - Special Effecta
Fast rising DJ and producer TeoTy has been causing huge waves in the Dance music scene since exploding onto it in 2015. The Italian artist already has an impressive release catalogue, consisting of records like: 'La Fiesta' and his remix of Tom's Diner', releasing on imprints such as Bit Records along the way. His fellow countrymen RiverBros have also been making monumental progress within the Dance music panorama. Seen by many as one the country's most exciting new duos, they can be found behind the decks at some of Italy's most prestigious venues, including: Le Roi Club 1951, Home Rock Bar, Totem Club, as well as securing spots at famed festivals like Holi Fusion.
Taking time out of their busy schedules meant that TeoTy and RiverBros could team up in the studio together and the results have not disappointing. 'Special Effecta' is the name of their production gem and is set to cause huge noises in clubs and festivals worldwide. Filled with driving drums, Jamaican influenced vocals, razor sharp synths and groovy vibes, this Moombathon infused Electro House record has everything you need to spice up your DJ mixes and perfect for any peak time set.
'Special Effecta' will see TeoTy and RiverBros make their debut on Yuga's well-respected imprint Kaisen Records and will be the next hit to be added to the label's impressive release catalogue. Mark Ursa, ITSPAGE, RoyTson, Liquid Cosmo and label boss Yuga are just a few names on their ever expanding roster, so it comes as no surprise that it has gained a reputation as one of the fastest moving new imprints in the industry. 'Special Effecta' is out now on Beatport and is set to see TeoTy and RiverBros rise to stardom continue at rapid pace.
Listen on Soundcloud
http://bit.ly/1TqFS8I
Available on Beatport
http://pro.beatport.com/release/special-effecta/1769963
TeoTy Online
http://www.teoty.com
https://www.facebook.com/TeoTy-1420717968238073
RiverBros Online
https://www.facebook.com/riverbrosdj
https://soundcloud.com/riverbros
https://www.instagram.com/riverbros
Kaisen Records Online
http://www.kaisenrecords.com
http://www.facebook.com/kaisenrecords
http://www.twitter.com/KaisenRecords
http://www.soundcloud.com/kaisen-records