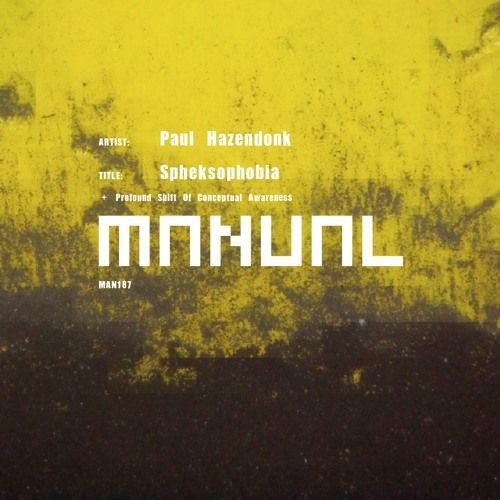 Paul Hazendonk - Spheksophobia
The next release on Manual Music sees Rotterdam's Paul Hazendonk present his first solo release on his own label since his excellent, long-awaited debut album 'Adapt', two years ago. Paul has been the driving force behind Manual Music since its inception in 2005, and has established it as a crucial platform for exciting talent, focused on sonic innovation that is always fresh and original. So it is fitting that the label's next exciting musical instalment features two creative masterpieces of the highest order from the main man himself.
'Spheksophobia' (literally meaning the persistent fear of wasps) features a restrained, teasing, percussive intro, that builds relentlessly via a diverse structure of layer upon layer of intricate sounds and dubbed out FX, as the track evolves into a fabulously engaging, deeply monstrous groove – the attention to detail is stunning, the end result is nothing short of spectacular.
'Profound Shift Of Conceptual Awareness' utilises a similar yet entirely different, diverse musical palette to create a brooding beast of a track in a slightly more energetic mould, that sparks with electric intensity and displays yet more of Paul's trademark attention to detail. This is music you could listen to over and over and hear something new every time – the sure sign of a masterful producer at work.
The demanding, multi-tasking role of being a label boss, alongside a busy DJ schedule, often only leaves Paul Hazendonk with short bursts of creative studio time. His last solo outing 'Tenant Setting' appeared on Flow Vinyl in August 2015, and between then and now he's been exploring new musical ideas via various, collaborative projects. Witnessing these stunning new solo works one can only hope he finds time to create more soon!
Having launched his DJ career over 15 years ago, it wasn't until a couple of years later that Paul released his first productions. Over that time he has steadily built an impressive catalogue of releases on numerous influential labels, including Hope, Einmusika, BluFin, Kittball, Sudbeat, Plattenbank, Lowbit, Diynamic, and numerous others, alongside releases on his own Manual Music imprint. It is highly recommended that you always keep him on your musical radar.
Artist Info:
http://www.paulhazendonk.nl
https://www.facebook.com/paulhazendonkofficial/
https://soundcloud.com/paul-hazendonk
Label Info:
https://www.facebook.com/manualmusicofficial …
https://soundcloud.com/manual-music