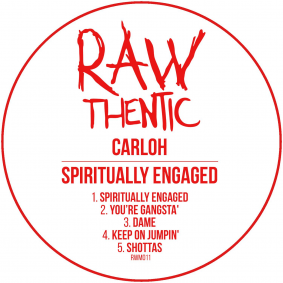 Carloh - Spiritually Engaged EP
Desolat and Hot Creations producer Carloh joins Rawthentic with his 'Spiritually Engaged' EP featuring five rhythmic cuts.
Native and resident of a small Ecuadorian town, Quito, Valle de los Chillos, Carloh was taught the art of turntablism from his father and uncle and has since sought the path of pioneering and performing the "Andes House" – a genre he pioneers with passion that fuses his South American influences with electronic music, which he fell in love with whilst travelling Europe. Following strong releases on Desolat, Baumsounds, Hot Creations and I'm A House Gangster, Carloh's Rawthentic debut is exemplary of his "Andes House" sound.
'Spiritually Engaged' drives steady hi-hats over a stream of chopped vocal cuts, before the deep resonating kick of 'You're Gangsta' meets sweeping risers and brass sample scratches, followed by the bouncing drums and a low stuttering bassline of 'Dame'. Then 'Keep On Jumping' offers a deadly snare and erratic cymbal hits building up into low end heat before finishing with 'Shottas', which creates atmosphere with dispersed vocal cuts over an enveloping bass.
Carloh's 'Spiritually Engaged' EP drops on Authentic on 22nd March 2019.
Tracklist:
1. Spiritually Engaged
2. You're Gangsta'
3. Dame
4. Keep On Jumpin'
5. Shottas
https://soundcloud.com/carlohousemusic
https://www.facebook.com/carlohouse
https://www.facebook.com/rawthenticmusic/
https://soundcloud.com/rawthenticmusic