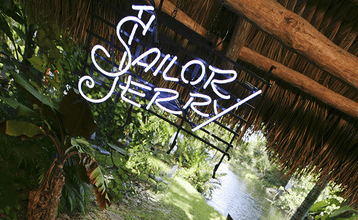 Sponsored Video: Sailor Jerry and Iggy Pop – One of the most exciting Fashion/Music collaborations to date
As fashion lines created by celebrities go, they're usually a bit bland. We've seen the same old designs year in year out by Z –leisters trying to make their mark on the fashion world and to be honest, they've been mainly interchangeable year on year. However, Sailor Jerry Clothing seem to be getting the mix of musician and fashion line right, and they're at it again, with a great line stemming from their collaboration with legendary music icon Iggy Pop.
The Flash Collection, named after the tattoo flash of Norman Collins, the inspiration behind Sailor Jerry, follows hot on the heels of last years' collaboration with Paul Simonon, which was extremely well received.
The range itself comprises of sets of embroidered patches, that can adorn any item of clothing, a leather belt with handmade buckle, and a denim vest, the likes of which will take you back to the 1950's with it's retro feel. The embroidered patches can be used to customize the vest itself, although with "it's Death Shall Triumph" slogan and anchor motif, we'd be happy enough to wear it as it comes.
Nevertheless, the idea of customising clothing ties in with the whole theme of the range, as a throwback to the motorcycle gangs of those days, who would often customise their biker's vest with patches, badges and studs. If you think of Iggy in his performing days, you'll remember that he often went shirtless with just a vest, so this range has a lot of the man in it.
Iggy himself feels extremely proud of the Flash range, which he hopes does justice to the tattoos of Flash artist Collins. He intends to sign the limited edition vests, and include a numbered label to provide proof that the wearer is in a select group of only 50 to own the vest.
The belt, also limited edition, is another throwback to biker chic, with the hand-hewn buckle depicting a sharks head, set on a belt of tough, thick patterned leather. It's tough, and makes a statement, just as it intended to do.
If you'd like to get your hands on the collection, you can order from http://unr.ly/12p2NZ7, or visit the Facebook Page at http://unr.ly/1yfvIt5 for more details.
Sponsored by Sailor Jerry