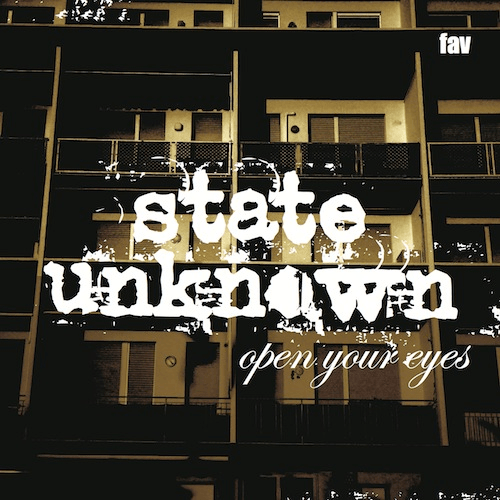 State Unknown – Open Your Eyes
Favouritizm welcome to the label State Unknown – the highly innovative London duo comprising of UK Garage hero, Ed Case and Dan Genal, revealing their deep house bomb for WMC/Ultra 2014 – 'Open Your Eyes'. A whopping slab of 'lad house', 'boys noise', call it what you will.. 'Open Your Eyes' is powered by a filthy bass hook, pressured beats, eery guitar hooks and sweeping synthology, all linked together by a sublime, nostalgic vocal from a very special secret guest!.. Nope, we're not telling you, but he's damn hot!
State Unknown were born in January 2013, when prolific songwriter/producer Ed Case, decided to construct a solid platform to release his underground bass driven mid tempo tracks, which have been shaping the sounds of now. Joining forces with DJ / producer Dan Genal, they have launched themselves into the global dance music arena, receiving great acclaim with their spray of single releases to date including 'Inside My Mind', 'No More Fears', 'Fluid Motion' and recently 'Shock Tactics' among others, with plenty more in the pipeline!
Ed Case made his mark on the music industry earlier on in this millennium. With a the top 40 UK Garage hit 'Something in your eyes feat Shelley Nelson, which then led to him producing the Gorillaz remix of 'Clint Eastwood 'being the 2nd best selling record of 2002. He has worked with the likes of Destiny's Child, Gabrielle, Beenie Man, Misteeq & Katie Tunstall. Music is his passion & Ed has always enjoyed creating real magic in the studio. Ed enlisted the help of Dan Genal having worked with him previously on a number of projects and labels (Indica, Deep Velvet, Bootylicious Prod, Quality Control, & Funklife Recs,) over the years, successfully, they both felt it was a right time to push their new music to the masses. Ed was producing his own tracks and held a wealth of musical knowledge and expertise, while Dan already had numerous years behind the decks in clubs and radio, being tuned into what creates a groove on the dance floor with his exceptional ear. Their versatile and technically-brilliant DJ sets which incorporate everything from deep and soulful sounds to tougher and techier beats, have won the pair fans worldwide. This collaboration has proved successful and established the future of State Unknown and its sustainability in the dance music industry – keep you eye on 'em and watch yer bassbins!