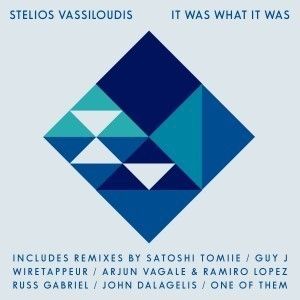 Stelios Vassiloudis – It Was What It Was
From ambient soundscapes, down-tempo vocal tracks and slo-mo house, through to deliciously deep experiments, firing tech-house and acid grooves, "It Is What It Is", the supremely exciting double-disc debut artist album from Stelios Vassiloudis, was released on Bedrock at the tail end of 2011. Then, at the height of summer 2012, came the first of a planned series of album remix packages featuring interpretations from some of the most exciting producers from around the world, fittingly titled "It Was What It Was". Now, at the start of 2014, comes the next highly anticipated, super-exciting selection of remixes.
The original album is rich with the many vocal talents it hosts, one of the most glorious contributions coming from Astrid Suryanto on "Feed", giving Russ Gabriel (whose name has been synonymous with UK Techno since 1993) the perfect backdrop to create an absolutely beautiful, fresh interpretation. The brilliant One Of Them (aka New York based Niko Dalagelis) continues with the beauty theme, taking the vocal contribution of Japan's Tomomi Ukomori on "Green Is Blue" into a deeply chilled house excursion, whilst the Japanese music master, Satoshi Tomiie, interprets things a more upbeat manner that is equally enthralling for his remix.
Guy J's work is always touched with a magic and emotion that few rival and his remix of "I Burn Like" is yet another example of why his productions are so special. This time the distinctive original vocals of Darren Murphy are meshed into a deeply hypnotic journey. In contrast, Wiretappeur (the production partnership between Florian Kruse, Nils Nurnberg and Stelios himself) turn "I Burn Like"into a seductive slo-mo vocal house masterpiece.
Dieb Audio's John Dalagelis (brother of the aforementioned Niko) was heavily involved in the original album project and returns here with a delightfully adventurous, jazz-influenced, widescreen techno take on "Repetition". The superb selection of creative remixes is brought to a finale with India's Arjun Vagale joining forces with Spain's Ramiro Lopez to put together a frenetic percussive acid interpretation of "What's That" (odd one out here as the original track first appeared on the Bedrock 14 compilation album).
Anyone open to the emotions on display here really should check out "It Is What It Is", the original debut artist album by Stelios Vassiloudis, as it is much more than a collection of great tracks. It's an exceptionally exciting, bold and brave body of music that defiantly stands the test of time, beyond fickle trends and fashions, and remains a benchmark release from Bedrock to this day.