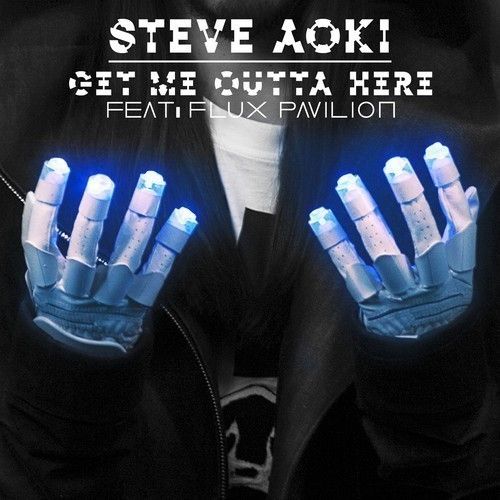 Steve Aoki – Get Me Outta Here
"I feel a storm is somewhere near," are lyrics sang on the haunting track "Get Me Outta Here" featuring Flux Pavilion which appears on STEVE AOKI's NEON FUTURE I album due out September 30 on Dim Mak/Ultra Music. Set over a shuffling beat punctuated by synths that could double for laser blasts from a starship circa 2114, the words tie together on the future music composition created with Flux Pavilion, one of the U.K.'s most prominent producers. The song made its debut yesterday on This Song Is Sick
Listen to "Get Me Outta Here" featuring Flux Pavilion now:

Meanwhile, STEVE AOKI is set to appear on "Jimmy Kimmel Live" on Tuesday, September 30 in support of Neon Future I. He will perform the song "Rage The Night Away" featuring Waka Flocka Flame.

At the same time, he is still heating up radio waves with his first Top 40 radio track "Delirious (Boneless)" with Chris Lake and Tujamo featuring Kid Ink. The song–touted by Zach Frydenlund of COMPLEX (June 3) as a "Šclub anthem that's all about a night on the town with no worries. Kid Ink molds right in with the club record, delivering quality verses and an infectious hook on the song" — has just been added to KHKS Dallas and WNOW Indy and still continues to see strong support from stations like KAMP in Los Angeles, KMVQ in San Francisco, KKHH in Houston and WFLC in Miami just to name a few. Currently it ranks at #28 on Shazam overall in the U.S.
The follow-up to his 2009 Grammy-nominated debut Wonderland, Neon Future I is an all-star extravaganza from one of dance music's most heralded entertainers. It features collaborations with the likes of Fall Out Boy, Empire of the Sun, will.i.am, Afrojack and Bonnie McKee. Album tracks "Rage The Night Away" featuring Waka Flocka Flame, "Free The Madness" featuring Machine Gun Kelly and "Delirious (Boneless)"–are out now.
Catch STEVE AOKI live:
DATE CITY VENUE
Fri 9/19 Las Vegas, NV iHeartradio Festival
Fri 9/26 Las Vegas, NV Hakkasan
Sat 9/27 Fairburn, GA TomorrowWorld
Sun 9/28 Fairburn, GA TomorrowWorld
Thu 10/2 New York, NY MLB Fan Cave
Fri 10/3 Ls Vegas, NV Hakkasan
Sat 10/4 Las Vegas, NV Wet Republic
Sat 10/4 Eugene, OR Cuthbert Amphitheatre (Life In Color)
Fri 10/10 Milwaukee, WI Eagles Ballroom
Sat 10/11 Minneapolis, MN Zombie Pub Crawl
Fri 10/24 Las Vegas, NV Hakkasan
Fri 10/31 Salt Lake City, UT The Great Saltair
Sun 11/2 Las Vegas, NV Hakkasan
Thu 11/6 Philadephia, PA Liacouras Center (Wired 96.5 Fest)
Fri 11/7 Las Vegas, NV Hakkasan