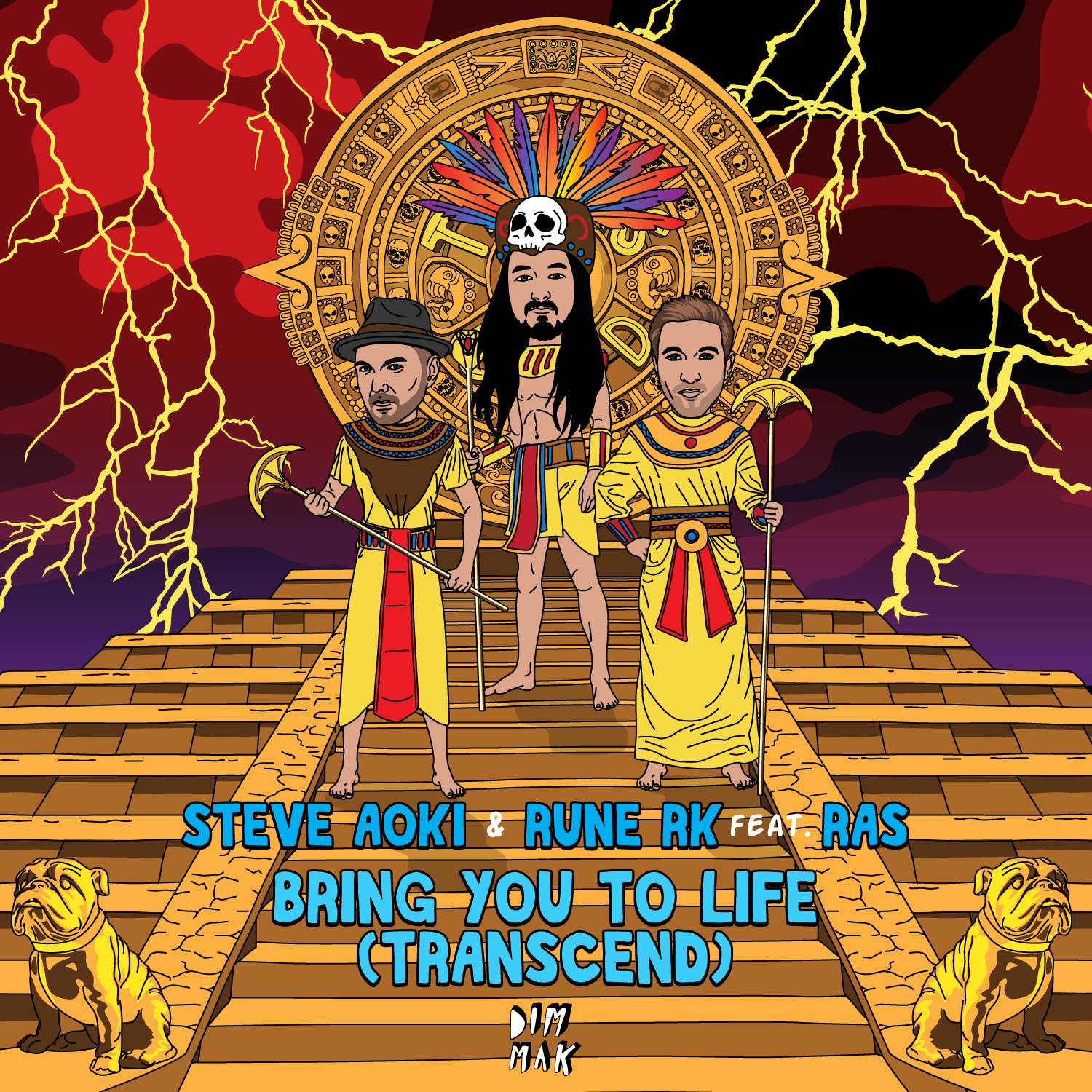 Steve Aoki & Rune RK feat. RAS – Bring You To Life (Transcend)
Global electronic music icon Steve Aoki has unveiled the official music video for his hit single "Bring You To Life (Transcend)" with house producer Rune RK featuring vocalist RAS, out now on Dim Mak Records. Originally premiered on USA Today, one of the leading and most widely circulated daily newspapers in the United States, the video is directed by Gille Klabin and features a major cameo from world-renowned fitness personality and actor Richard Simmons in a role-swapping appearance for the ages. Watch the official "Bring You To Life (Transcend)" music video here: http://youtu.be/cWHdGcqRxS0.
In the video, Steve Aoki and Richard Simmons transfer into each other's universe via a magic pair of SOL REPUBLIC headphones. Steve Aoki becomes a fitness guru as he takes the place of Richard Simmons in his famous fitness video series, "Sweatin' to the Oldies." On the other hand, Richard Simmons transforms into an EDM superstar and even takes a note from Aoki's signature cake-facing move. The full video is set to "Bring You To Life (Transcend)" and is powered by Aoki's headphone of choice SOL REPUBLIC and the newly launched Deck by SOL REPUBLIC x Motorola, a portable wireless speaker, both featured prominently in the video.
"'Bring You To Life (Transcend)' is about bringing people to life, literally," says Steve Aoki about the track. "It's a literal expression about letting the music bring you to life. The video is a very fun roll swap between myself and the original dance guru Richard Simmons doing what we both do best."
"Bring You To Life (Transcend)" is the latest track in an arsenal of chart-topping hits from Aoki. It spans across various genres with a heavy, pop-leaning influence that blends a radio friendly theme with hard-hitting drops that are sure to get hearts pumping via beats by Aoki and Rune RK. Singer/songwriter RAS brings the song to life with his sweet lyrics and angelic voice. "Bring You To Life (Transcend)" is dance music's perfect blend of house melodies, mesmerizing vocals, and anthemic buildups bound for chart domination.
"In an echo of the festival-primed sound both Aoki and his Danish peer [Rune RK] have kept in key throughout their respective careers, 'Bring You To Life' breathes radio-friendly edge without dampening the impact of their notable collaborative energy."
—Dan Carter, DANCING ASTRONAUT (9/28/13)
About Steve Aoki:
Steve Aoki is a Grammy-nominated international producer/DJ, electronic dance music entrepreneur, and founder of the trendsetting record label, events/lifestyle company, and apparel line Dim Mak. Since launching in 1996, Dim Mak has broken bands such as Bloc Party, The Bloody Beetroots, Klaxons, and The Gossip through deftly marketed single and full-length releases and now has nearly 500 releases to date. As a solo artist, Aoki has become a force of nature averaging over 250 tour dates per year. In 2012, Aoki took his incredible career to the next level with his first proper full-length release Wonderland (Ultra Music/Dim Mak), followed by Wonderland Remixed, and his live concert DVD Deadmeat: Live at Roseland Ballroom, along with various singles, remixes and EPs, all of which brought together a lifetime's worth of passion for bands, DJs, and artists of all stripes. Aoki also headlined the successful Deadmeat North American Tour in 2012, which boasted over 50 tour dates resulting in his being named Pollstar's highest grossing dance act for the first half of the year and landing him a cover feature. Currently, Aoki is working on his follow-up album Neon Future, scheduled for release in 2014 via Ultra Music/Dim Mak, and is touring on his Aokify America North American Tour this fall featuring Borgore, Waka Flocka Flame, and special guest Pharrell Williams (on select dates). His most recent releases include: new single "Bring You To Life (Transcend)" with house producer Rune RK featuring vocalist RAS, out now on Dim Mak Records; the massive Linkin Park collaboration "A Light That Never Comes," out now on Machine Shop Recordings/Warner Bros. Records; "Boneless," a collaboration with Chris Lake and Tujamo (Ultra Music), which hit #1 on Beatport; and several upcoming projects for Dim Mak and Ultra Music.

For more information on Steve Aoki, visit:
www.steveaoki.com
www.facebook.com/Steve.Aoki
www.twitter.com/steveaoki
www.soundcloud.com/steveaoki
For more information on Dim Mak Records, visit:
www.dimmak.com
www.facebook.com/dimmakrecs
www.twitter.com/dimmakrecs
www.youtube.com/dimmakrecords
www.soundcloud.com/dimmakrecords