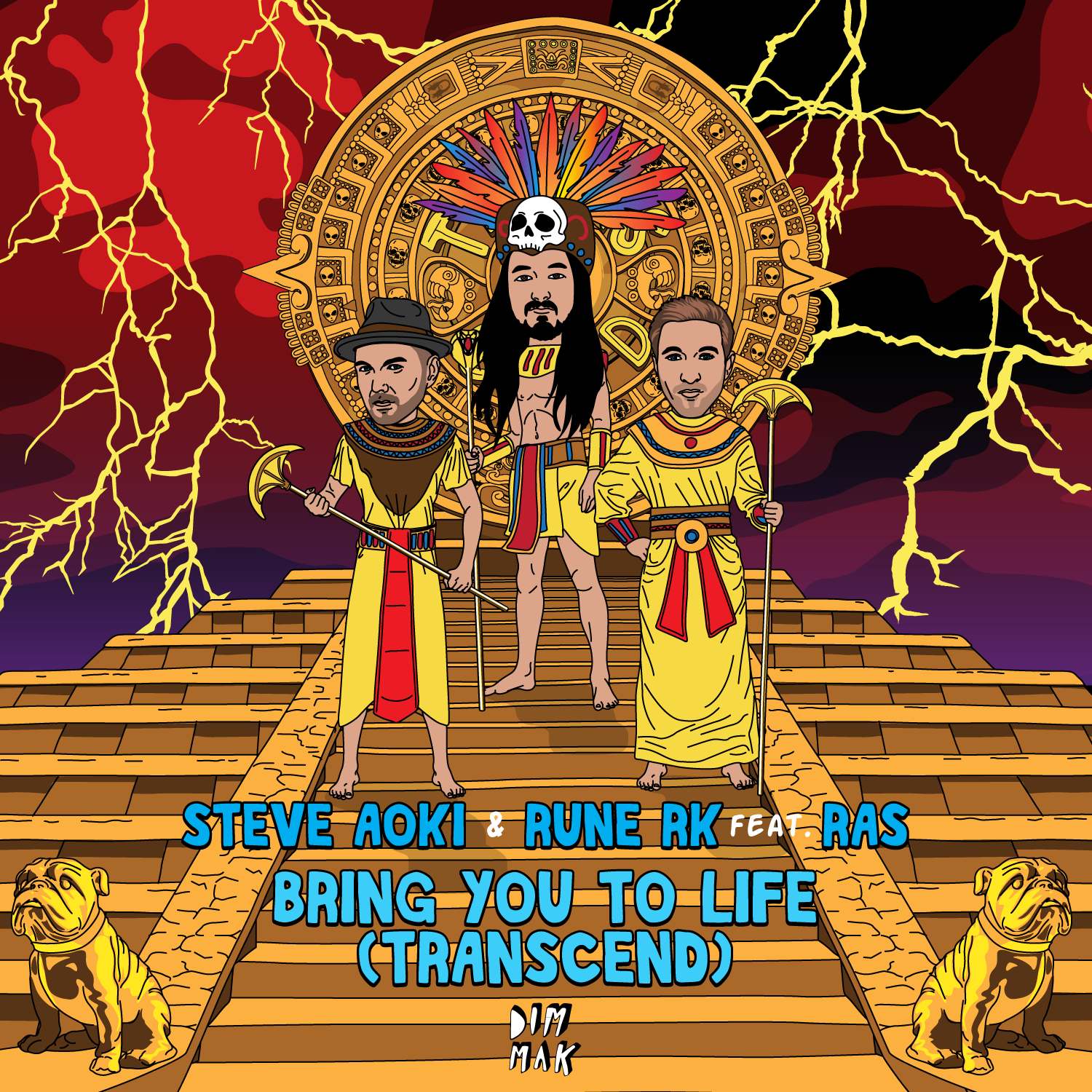 Steve Aoki & Rune RK feat RAS – Bring You To Life (Transcend)
STEVE AOKI blurs the lines of electronic music with his newest single "Bring You To Life (Transcend)" with house producer Rune RK featuring vocalist RAS, out today Dim Mak Records. The latest track in an arsenal of chart-topping hits, "Bring You To Life (Transcend)" spans across various genres with a heavy, pop-leaning influence that blends a radio friendly anthem with hard-hitting drops that are sure to get hearts pumping. Singer/songwriter RAS brings the song to life with his sweet lyrics and angelic voice. "Bring You To Life (Transcend)" is dance music's perfect blend of house melodies, mesmerizing vocals, and anthemic buildups bound for anarchy the world over. Look for more information on the official "Bring You To Life (Transcend)" music video as well as remixes of the track from producers and Dim Mak artists Qulinez and Dirtyphonics soon. Stream "Bring You To Life (Transcend)" from STEVE AOKI and Rune RK featuring RAS here: http://bit.ly/GWONv7.
Rune RK has sold millions of records in his career with the global hit "Calabria," racking up over 50 million views on YouTube, mashed together with Alex Gaudino featuring Crystal Waters as "Destination Calabria" (Top 10 pop chart in 13 countries), and continues to be supported by the dance music elite. In his celebrated career, Rune RK has worked with numerous world-renowned artists, including Shakira and Pitbull, and his production work is more in demand now than ever. The producer/DJ has throughout his career received two BMI Awards, one DMA/Grammy, and 10 Danish DeeJay Awards, five of them being in the Best DeeJay category. Additionally, Rune RK operates under various aliases, including Kölsch, under which he recently released his debut album 1977 via the Kompakt imprint.
Across the pond, STEVE AOKI is taking over North America with his Aokify America Tour, one of this year's most anticipated events. The tour boasts the freshest talent in electronic and hip-hop music with bass music producer Borgore and hip-hop heavyweight Waka Flocka Flame as direct support acts and Grammy Award-winning producer and singer/songwriter Pharrell Williams on select dates. Rune RK joins the Aokify America Tour on select dates, which also features a rotating talent roster composed of numerous Dim Mak artists, including Felix Cartal, Dirtyphonics, Keys N Krates, Autoerotique, Botnek, Deorro, and Garmiani as well as a new, specially designed production from performer Kryoman entitled HEX3D. Tickets for the Aokify America Tour are available now: www.aokifyamerica.com. Watch the Aokify America Tour trailer video here: http://youtu.be/96Ykjccn_ts.
Meanwhile, STEVE AOKI continues to dominate the music world with his recent releases including: the massive Linkin Park collaboration "A Light That Never Comes," out now on Machine Shop Recordings/Warner Bros. Records; and "Boneless," a collaboration with Chris Lake and Tujamo (Ultra Music), which hit #1 on Beatport.
STEVE AOKI and Rune RK — "Bring You To Life (Transcend)" featuring RAS is available to buy on iTunes now on Dim Mak Records
For more information on STEVE AOKI, visit:
www.steveaoki.com
www.facebook.com/Steve.Aoki
www.twitter.com/steveaoki
www.youtube.com/steveaoki
For more information on DIM MAK RECORDS, visit:
www.dimmak.com
www.facebook.com/dimmakrecs
www.twitter.com/dimmakrecs
www.youtube.com/dimmakrecords
www.soundcloud.com/dimmakrecords