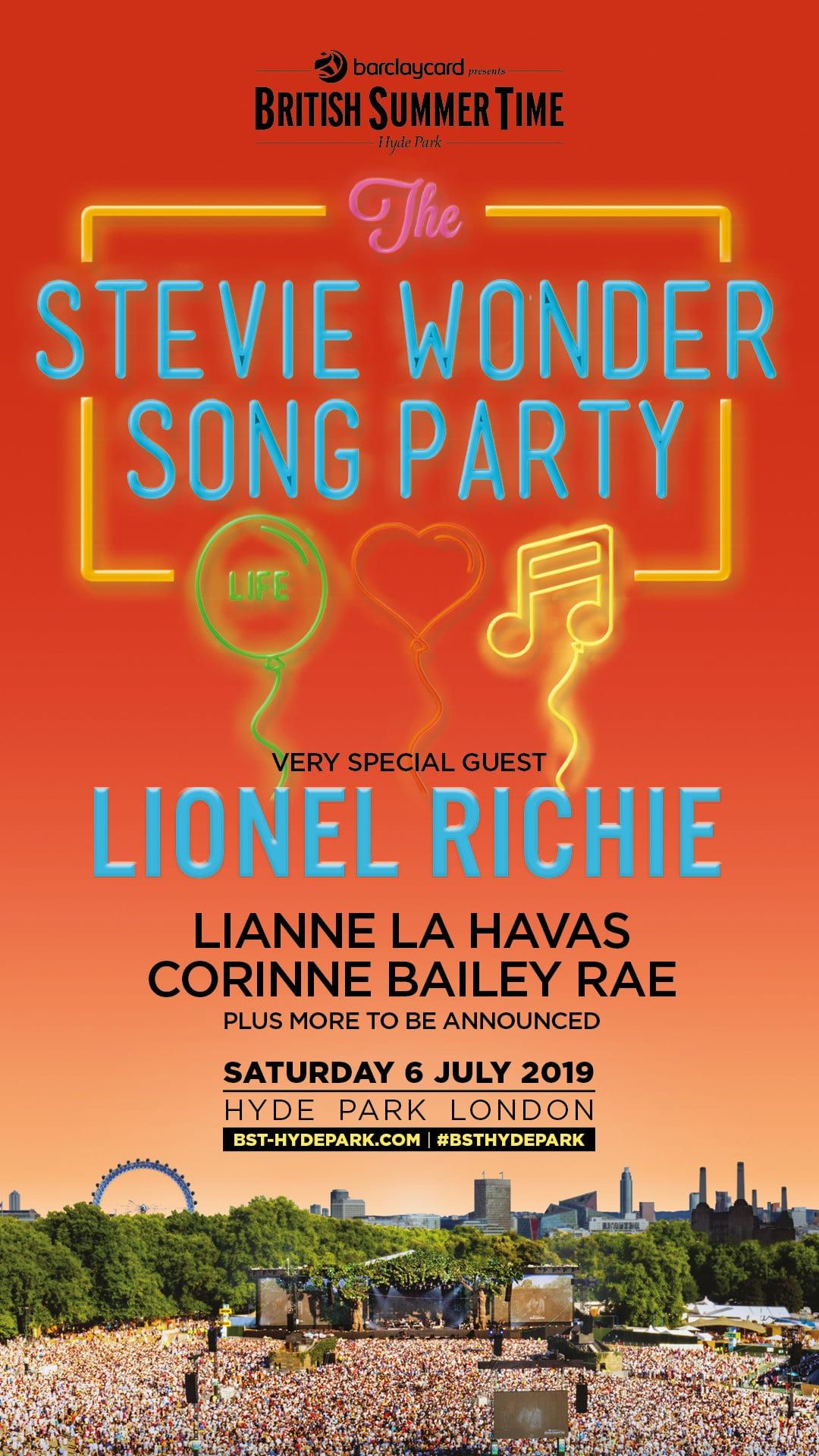 Stevie Wonder Announces More Special Guests: Lianne La Havas Corinne Bailey Rae
13th May 2019 – Singer, songwriter, musician, and producer Stevie Wonder graces Hyde Park for the second time with "The Stevie Wonder Song Party: A Celebration of Life, Love & Music" on Saturday 6th July, 2019. Not only will he be joined by fellow legend Lionel Richie, now on Stevie's 69th birthday, two outstanding artists have been added to the line up – Lianne La Havas and Corinne Bailey Rae.
Lianne La Havas burst into the scene in 2012 with her debut album 'Is Your Love Big Enough' which earned her a nominations in the BBC's Sound Of poll and The Mercury Prize. Her soulful jazz caught the ear of Prince who in 2014 featured La Havas on his album 'Art Official Age' after first turning up in her living room to play a gig! Second album 'Blood' earned more acclaim with Grammy and BRIT nominations. In recent times, she has been taking to social media to tease new music and is preparing for US shows. BST Hyde Park waits with excitement for her music both old and brand new on June 5th.
Corinne Bailey Rae is the Leeds soul queen and singer song writer who had a similar rapid rise to stardom and continues to create beautiful music in a myriad of ways. 2006's debut album featured hits 'Put Your Records On' and 'Like A Star' and her second album 'The Sea' received a 2010 Mercury Prize nomination. The Guardian called her return 'The Heart Speaks In Whispers' "the best R&B of 2016" and she has recently turned her talents to film and television music including composing the theme to 'Stan Lee's Lucky Man', recording 'The Scientist' for the 'Fifty Shades Darker' film soundtrack and she duets on screen with Richard Hawley in the acclaimed independent film FUNNY COW.
Stevie Wonder is one of the most celebrated and prominent figures in popular music who, at the age of 12, was the youngest recording artist to have achieved a #1 single with "Fingertips, Part 2". To date he has amassed 49 Top Forty singles, 32 #1 singles and worldwide sales of over 100 million units. Stevie has won 25 Grammy Awards, the prestigious Grammy Lifetime Achievement Award, a Golden Globe and an Academy Award.
As an activist, Stevie also spearheaded the realization of "Martin Luther King Day" as a national holiday. His participation in the "We Are The World" fundraiser for hunger in Africa was a music industry milestone and his involvement to put an end to apartheid in South Africa is legendary. He is the youngest recipient of the Kennedy Center Honors, and is a Commander of France's National Order of Arts and Letters.
Stevie was awarded the Library of Congress' Gershwin Prize for Popular Song where he performed his commission, "Sketches Of A Life," which placed him in a very select group of eminent composers who have received library commissions, including Aaron Copeland, Leonard Bernstein and Paquito D'Rivera.
Stevie has received the Presidential Medal of Freedom, and he is a designated U.N. Messenger of Peace with special focus on persons with disabilities. He continues to be a pivotal influence in U.S. and world events, demonstrating the activism that has made him such a vital voice for social progress and world harmony.
Lionel Richie will be amongst the very special guests sharing the Great Oak Stage on July 6th. In December 2017, Stevie Wonder performed a cover of 'Easy' at Richie's Kennedy Center Honours ceremony, which left Richie visibly emotional. He later said, "I got into the business because I wanted to be like Stevie Wonder, so for all of a sudden for Stevie to be singing my song, it was surreal."
Lionel Richie has a discography of albums and singles that are second to none. His music is part of the fabric of pop music; in fact, Richie is one of only two songwriters in history to achieve the honour of having #1 records for nine consecutive years. Richie has sold more than 100 million albums worldwide and is an Oscar, a Golden Globe, and four-time Grammy Awards winner. Lionel Richie is known for his early work with The Commodores as well as for his solo mega-hits including "Endless Love," "Lady," "Truly," "All Night Long," "Penny Lover," "Stuck on You," "Hello," "Say You, Say Me," "Dancing on the Ceiling," and one of the most important pop songs in history, "We Are the World," for USA for Africa. With his most recent All the Hits, All Night Long Tour, Richie sold out arenas worldwide with a set list of his brightest and best anthems. In recent years, he has also headlined festivals including Bonnaroo, Outside Lands, and Glastonbury, drawing the festival's biggest crowd ever with more than 200,000 attendees. Richie was a judge on ABC's American Idol and has returned to the 'Judge's' chair for the 2019 season.
Barclaycard presents British Summer Time Hyde Park 2019 is back for another year of unique shows and unforgettable music moments, for the 7th year.
Already announced for Barclaycard presents British Summer Time Hyde Park 2019 is Celine Dion (5th July), Barbara Streisand (7th July), Florence + The Machine and The National (13th July) and Robbie Williams (14th July).
Last year continued the tradition of must-see experiences that has seen The Rolling Stones return to Hyde Park, Carole King play her classic album 'Tapestry' in full for the first time ever, comebacks for The Strokes and The Libertines and many more.
2018 saw amazing days and nights with Roger Waters, Bruno Mars, Michael Buble, The Cure, Eric Clapton and Paul Simon's last ever UK concert.
Barclaycard presents British Summer Time Hyde Park is an award-winning festival:
Shortlisted for Best Festival at the Q Awards 2018
Shortlisted for Best Major Festival and Best Metropolitan Festival at the Festival Awards 2018
'Best Live Act' The Cure @ British Summer Time Hyde Park at the Live UK Magazine Awards 2018
Shortlisted for Best Major Festival and Best Metropolitan Festival at the UK Festival Awards 2017
AEG/Goldenvoice (organisers of BST) 'Best Promoter' at the UK Festival Awards 2016
Headline Performance of the Year (The Libertines) at the UK Festival Awards 2014
'Festival of the Year' at the UK Event Awards 2013
'Best Use of New Technology' at the Festival Awards 2013
Tickets available at www.bst-hydepark.com/tickets/6th-july-stevie-wonder
General Admission is sold out.
Limited VIP and hospitality available. Plus limited number of General Admission three day tickets.
http://www.bst-hydepark.com
facebook.com/BSTHydePark
@BSTHydepark