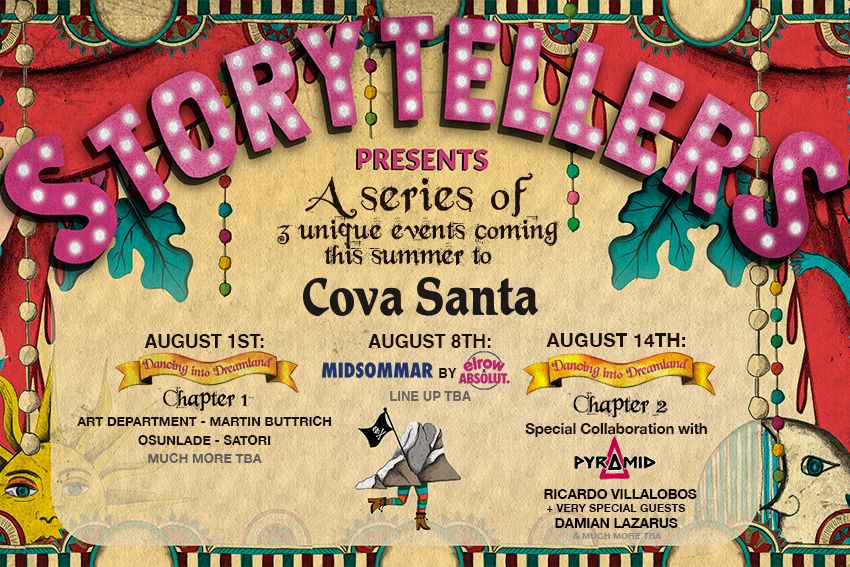 Storytellers at Cova Santa
Live a fable in first person, amplify sensations through art and performances synchronised with music, to allow the guest DJs to unleash their imagination and to let the audience participate in their artistic fantasies – not only musical ones – in spaces transformed by an impressive production in imaginary universes designed to explore new levels of experience from sunset to sunrise: Storytellers.
August 1st sees Storytellers take over Cova Santa Ibiza for Chapter I of its "Dancing into Dreamland" story with lead characters: Art Department, Martin Buttrich, Osunlade, Satori and many more artists and surprises to be announced.
The next tale comes from the north on August 8th where on this day of the year the sun never sets… elrow and Absolut present Midsommar, in collaboration with Storytellers Ibiza who will be recreating the spirit of Sweden's longest day of the year called MIDSOMMAR for one day and one night only this summer… A celebration of love and fertility, dancing & games, theatrics & music, eating & drinking, summer flowers and powerful dreams.Line up to be announced soon.
The "Dancing into Dreamland" story then continues for Chapter II on August 14th for a special collaboration with Pyramid, the new party every Monday at Amnesia, with Ricardo Villalobos and a very special guest(who also play Pyramid on August 13th), as well as Damian Lazarus and many more artists and surprises to be announced.
Following sold out events in Tulum and Barcelona, Storytellers continue to create an immersive experience that combines music, performance, technology and imagination.
It's a worldwide series of ephemeral performative events, as each party will be developed alongside an internationally renowned artist or label in collaboration with Storytellers in themed spaces integrated in the context and with the audience as major character of a fantastic adventure where music will be just one of the channels of transmission, promoting a different way of living an electronic music party.
A beautiful tribe of givers welcome you to "Dance into Dreamland", adorning you with gifts, love, and tribal rainbow war paint. They invite you to dance, to interact, to play and re-discover yourself, breaking down barriers and connecting the energy throughout the experience, enchanting you with their magical charisma and mischievous nature.
Inspired in part by the original and exclusive private parties that the Storytellers artistic team has been organising in Ibiza over the last few years, Storytellers' mission is to make the audience feel at home.
An odyssey with countless acts, dozens of characters, performances and themed spaces for the crowd to live a unique and exciting story in first person.