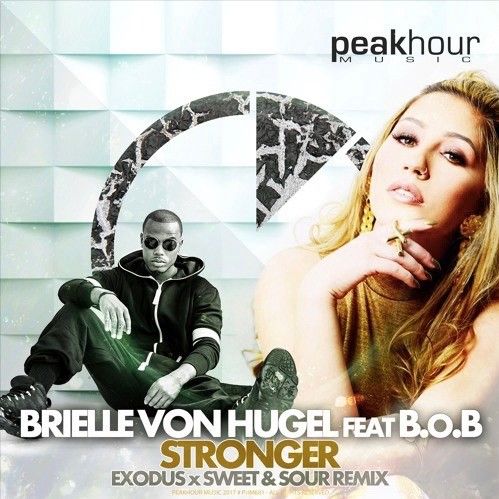 Brielle Von Hugel ft. B.O.B. - Stronger (Exodus vs. Sweet & Sour Remix)
With her powerhouse pipes and undeniable passion, Brielle Von Hugel charmed millions of viewers on Season 11 of American Idol, reaching the semi-finals. The singer-songwriter has already released numerous original singles and cover songs that have garnered millions of YouTube views and Spotify plays.
After great success with her single "Naked," Brielle is gearing up to release a brand new remix of her song "Stronger" featuring B.O.B., mixed by House DJs Exodus and Sweet & Sour. The invigorating electronic mix will hit all digital platforms on March 20th, 2017.
In her latest single, Brielle soars through each verse with airy and sultry vocals that build into a vigorous roar, showcasing the immense range in her voice. "Stronger" drips with pure honesty and passion as Brielle belts "say what you want, take down my walls, so I've been through it all; been through the fire. Day by day my flame is getting higher." The song touches on each individual's life struggles and 'growing pains' that continuously make each person stronger. Billboard charting B.O.B. continues the momentum with an intense and rhythmic vocal delivery. His natural rap abilities flow freely through the verse as he proclaims the obstacles that only make him live longer and push him to be more competitive.
New York producer Exodus joins forces with House duo, Sweet & Sour to transform this pop single into an upbeat dance track. The rising producers combine elements of electro, progressive and tropical house to create an irresistible and breezy spring release.
Brielle continues to charm listeners with her unapologetic songwriting and infectious hooks. Her current single, "Naked," has surpassed 1 million streams on Spotify and is airing on over 40 radio stations! Entertaining Options noted, "A rare artist, Brielle possesses both an astonishing vocal strength and a captivating delicacy. Her voice can stop the world from spinning."
Brielle just finished a North American tour with internet sensation Postmodern Jukebox and will be jetting off to join them again in Europe starting March 20th.