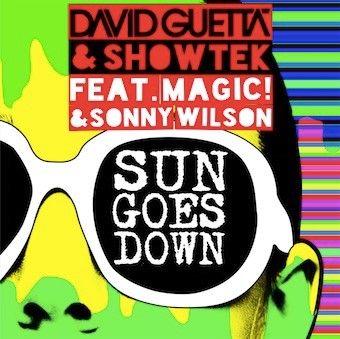 David Guetta & Showtek - Sun Goes Down ft. Magic! & Sonny Wilson (Remixes)
Following the launch of David Guetta & Showtek's new single 'Sun Goes Down' – the fifth to be taken from David's latest artist album 'Listen' – a special remix EP has also been made available to download. Drafting in huge remixes from Eva Shaw, Hugel, Tom & Jame and Brooks, as well as extended and summer mixes from David himself, each rework taps into the buzz and excitement surrounding the single.
With David's original produced alongside long-term collaborators Showtek, who also teamed up with David on 2014 club smash 'Bad', 'Sun Goes Down' feels like the perfect summer record. Bright, colourful reggae beats, tropical drum patterns and Sonny Wilson's iconic, ragga vocal explore a different side to David's production work – and each remix feeds into the hype that has already seen 'Listen' score four massive international chart hits.
From Hugel's mellow, disco-tinted remix to Dutch producer duo Tom & Jame's explosive electro-house edit and Brooks' bubbling club rework, David's original is transformed to impact on a multitude of dance floors the world over – and is sure to prove a big hit with his fans.
With 'Listen' having claimed the #1 album spot on iTunes in an incredible 75 countries, lead single 'Lovers On The Sun' ft. Sam Martin earning David his seventh UK #1 single and 'Hey Mama' ft. Nicki Minaj & Afrojack going Platinum in the US, David Guetta continues to prove why he remains the world's biggest and most influential electronic artist.