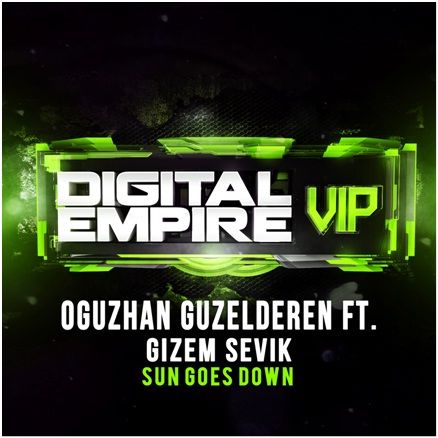 Oguzhan Guzelderen Ft. Gizem Sevik - Sun Goes Down
Hitting the shelves on the 18th of January, 2016, 'Sun Goes Down' is the latest effort from Turkish DJ and producer Oguzhan Guzelderen, featuring stellar vocalist Gizem Sevik. Whilst 2015 has been a busy year for the duo in the studio, they are now kicking off 2016 with a bang and will seek their big break this year.
Oguzhan Guzelderen is an established name within the DJing scene in Turkey, warming crowds at some of the most renowned clubs in the area, including the likes of: Andromeda, Reina, Sortie, Inferno, Kristall, Bodrum Halikarnas and Antalya Club Ally. Aside from being behind the decks of top clubs, Oguzhan Guzelderen has also shared the stage with heavyweight names like: Tiesto, Paul Van Dyk, David Vendetta, Outwork, Fedde le Grand, Royal Gigolos, Benny Benassi, Sak Noel and Chris Montana to name a few, whilst kick starting his production career with a series of well received bootlegs and remixes.
On the other hand, songstress Gizem Sevik started off with Pop and Jazz training, later making her way into the Dance music scene in 2011. Whilst touring with Oguzhan Guzelderen, she showcased her immense talent around A-list clubs in Turkey, whilst aiming to become one of her country's best EDM exports. Gizem Sevik's inimitable voice and Oguzhan Guzelderen refined productions make a truly magnificent team-up, which is set to make big waves in 2016.
Rooted within the Electro House genre, 'Sun Goes Down' has already attracted the attention of international DJs like: BSharry, Diabllo, Dirty Stab, DJ Epsilon, DJ Geri, Sick Individuals, DJ Micro and many others. Starting with a solid drum groove and a string of effect-based melodies, 'Sun Goes Down' transcends into a smooth guitar arrangement, whilst Gizem Sevik's silky vocals take centre-stage. A deep bass-line blesses the lower end of the frequency spectrum, whilst an uplifting ascension unleashes an energetic drop, characterised by colossal instrumentals. A break-down pulls back energy levels once more, whilst the mellow vocals are re-introduced into the mix. An additional build-up sets the scene for another much awaited chorus, which later heads the track towards a stylish ending.
Oguzhan Guzelderen and Gizem Sevik's 'Sun Goes Down' is now part of the growing Digital Empire VIP catalogue. The Complextro, Dirty Electro and Future House division within the Digital Empire Records family, Digital Empire VIP has been displaying some of the world's fastest rising talents, including: GRAW, Hot Shit!, Gran Fran, Caio Mass, EdgeCore, Collapse, Trashers and Newlex amongst others. Oguzhan Guzelderen and Gizem Sevik have now been added to the Digital Empire VIP roster and are certainly providing quality contributions towards the label's developing musical capital.
Available On Beatport
http://pro.beatport.com/release/sun-goes-down/1685399
Oguzhan Guzelderen Online
https://www.facebook.com/OguzhanGuzelderen
https://twitter.com/oguzhanguzelder
https://soundcloud.com/oguzhanguzelderen-1
https://www.instagram.com/oguzhanguzelderen
Gizem Sevik Online
https://www.facebook.com/GIZEM-SEVIK
https://twitter.com/SevikGizem
https://soundcloud.com/gizem-sevik
https://www.instagram.com/gizemsevik
Digital Empire VIP Online
http://www.digitalempire-records.com
https://www.facebook.com/digitalempirevip
https://twitter.com/DER_VIP
https://soundcloud.com/digital-empire-vip
https://www.instagram.com/digitalempirerecords