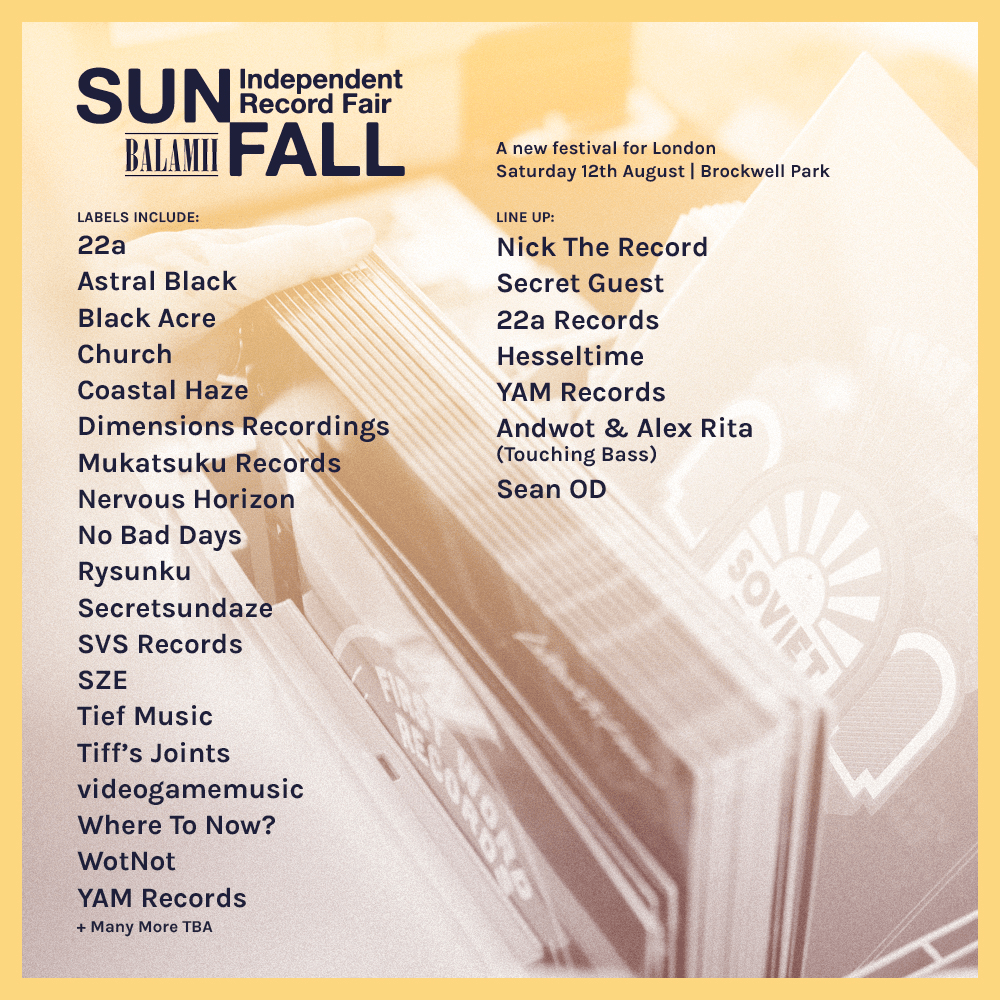 Sunfall's Independent Record Fair returns…
A new festival for London, Sunfall's unique day and night concept returns to Brockwell Park and various venues across the city on Saturday 12th August

— Joint day and night tickets on sale now —
It's with great pleasure we announce the return of Sunfall's Independent Record Fair to Brockwell Park as part of the festival's program on Saturday 12th August 2017.

A mixture of faces old and new, we welcome the likes of 22a, Tief, Secretsundaze and YAM Records to this year's label roster.
As last year we're teaming up with station Balamii Radio who'll be streaming from the tent on the day. Together we present an all-day DJ line-up which includes one of the country's most respected vinyl collectors Nick The Record. Don't miss the secret guest who'll be announced on the day.
Celebrating the announcement of the Independent Record Fair, Sunfall takes over Peckham's YAM Records for a special in-store session on Tuesday 18th May. Hold tight for more details.
Championing independence has always been central to Sunfall. Alike our founders (check nightclubs Phonox, XOYO, The Nest and Croatian events Outlook and Dimensions); we want to use our platform to showcase the labels which keep the scene on its edge.
"Sunfall is a festival for record collectors and if the festival can help further promote interesting music then that's a great thing" said Noah Ball of Outlook and Dimensions.
As before, our postal record service will return. Buy a record on site and have it posted to home to avoid carrying it all the way to your chose night session.

"We wanted to make sure the things that people loved about Sunfall in it's first year returned in year two. The record fair is a project we want to nurture. It's a reminder of why we're doing the festival in the first place, to support the music we love" Andy Peyton (Phonox, XOYO and The Nest).
—–
Labels include:
22a
Astral Black
Black Acre
Church
Coastal Haze
Dimensions Records
Mukatsuku Records
Nervous Horizon
No Bad Days
Rysunku
Secretsundaze
SVS Records
Tief Music
Videogamemusic
Where To Now?
WotNot
YAM Records
Line-up includes:
Nick The Record
Secret Guest
22a Records DJs
Hesseltime
YAM Records DJs
Andwot & Alex Rita (Touching Bass)
Sean OD
Anu
—–
NICK THE RECORD
A well known and well-respected record dealer in the UK, Nick's been selling and playing some of the world's most obscure tracks for over twenty years now. The go-to-guy for all things rare and unique; there's no collector more fitting to top this year's fair.

Event: Sunfall
Date: Saturday 12th August 2017
Website: www.sunfall.co.uk
Ticket link: bit.ly/Sunfall2017_festival