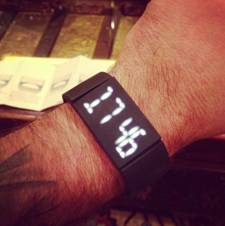 Superstar DJs Add Mutewatch to List of DJ Essentials
Minimal, design-led Swedish brand, Mutewatch (£199 at Selfridges), has found itself the unexpected focus of a DJ trend, with the likes of superstar DJs, Axwell, Sebastian Ingrosso and Alesso, all adding a Mutewatch to their list of DJ essentials. Mutewatch is the world's first hidden touchscreen watch, also featuring silent alarms and timers that vibrate against your wrist. These unique features are being utilised by DJs to keep track of their DJ sets in the dark and noisy environment of the DJ booth.

Axwell revealed recently, "Now, when I'm deejaying, I wear a watch that I've gotten from a Swedish company: Mutewatch. You swipe with your finger and it shows you the time. That's a disadvantage with Rolex and AP. You can't tell the time. When you're deejaying you need to pick up your cell phone just to flash light onto it."
Mutewatch is a solid band made of water resistant TPU, again useful in a hot club, and comes in a range of fashionable colours. The hidden touchscreen comes alive with either the touch of a finger or the flick of a wrist. The display lights up with an effervescent glow, which not only looks very cool, but makes it the perfect accessory for a DJ who needs to know how much time they've got left in their set, but can't easily see their watch.

Added to this, Mutewatch allows the user to set a timer or up to 5 separate alarms, which when activated, vibrate against the wrist in long or short bursts. This function was designed to be a discreet method of keeping organised, if you have a job that requires you to keep track of time. However, some of the world's most high profile DJs have realised that this function can be highly useful in a noisy club environment. The Mutewatch silent vibrating alarm can keep a DJ in touch with how long they've been DJ'ing, and give them a silent reminder of when to pick up the pace or drop that last big tune, all without even having to glance at their wrist.

Below are images from left to right of Axwell, Alesso and Seb Ingrosso all using their Mutewatches. Seb Ingrosso took to Twitter to say "I love my new Mutewatch – so hi-tech"

Mutewatch has a built in USB connector to charge the battery (full charge within 2 hours lasting 3-4 days depending on use). In the future, this connector will also allow for firmware updates, ensuring the Mutewatch is adaptable and futureproof. Most DJs carry a laptop with them these days meaning that they can always ensure their Mutewatch is fully charged and ready for any club.
Mutewatch continues to establish itself globally as an intuitive device for everyone who has a set of tasks, a goal to achieve and only 24 hours a day to do so. It is becoming a vital partner for anyone with a 'portfolio career' lifestyle who needs to stay organised. DJs also often come under this description with multiple careers as DJs, producers, label managers and more, so look out for a Mutewatch; coming to a club near you soon!