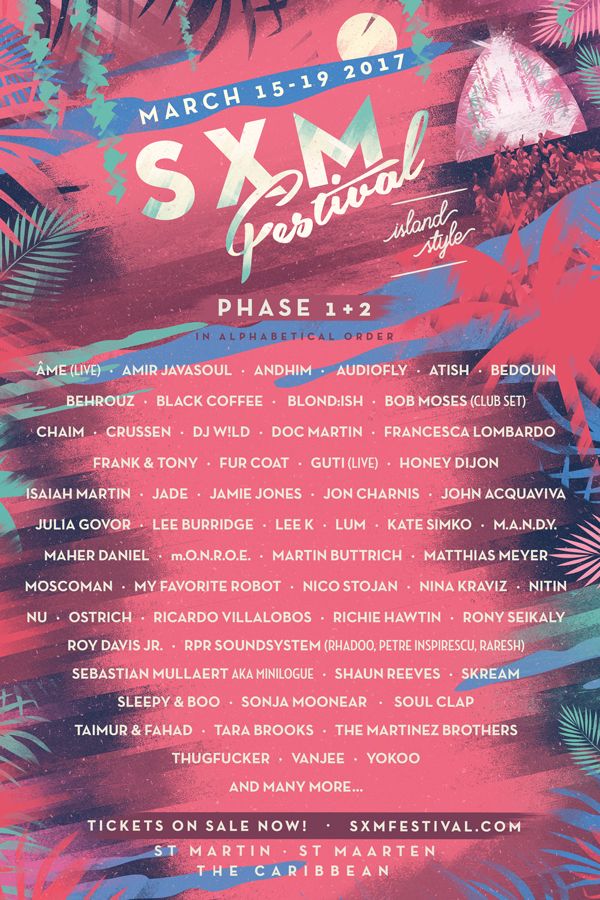 SXM Festival announces phase two lineup
SXM Festival, a clandestine Caribbean electronic music getaway, has announced the Phase 2 line-up for its March 15 -19 event, on the idyllic shores of Saint Martin. Joining an already world-class bill – including Ricardo Villalobos, Black Coffee, Âme, Bob Moses and Nina Kraviz – these newest additions show SXM Festival diving even deeper into the underground curation upon which it has earned its industry-leading reputation.
Poised to build upon the momentum of its much talked about inaugural 2016 event, SXM Festival's fusion of tightly curated programming and the unique Island atmosphere of Saint Martin, has earned the enthusiastic praise of fans, artists, and critics alike.
SXM Festival Founder Julian Prince says:

"At SXM Festival we value quality and intimacy. Quality of music and experience. Intimacy with some of the most wonderful, enlightened, party people on the planet. Add to that the breathtaking beauty of Saint Martin and it's a powerful mix. We have already sold tickets in North and South America, Europe, Australia, Africa and Asia. And we can't wait to welcome our global family to this magical island. In year two we have also redoubled our efforts to bring the very best talent in underground electronic music to SXM, with every carefully curated artist having their own sonic identity. Improving on last year's line-up has been a challenge because we respect the musical story so much. But as we announce Phase 2, we feel like we've done it for 2017 – and this story should win a Pulitzer prize."
Since its inception, SXM Festival has had its sights set on crafting an utterly unique destination experience, creating a new home for the nomadic dance music cognoscenti. For five sunrises and five sunsets, attendees will find themselves barefoot at the secluded white-sand beach main stage, adrift on an iconic Caribbean Boat Party, shining at exclusive VIP Villa Parties, lost in a techno tailspin in a natural jungle venue, or swept up in the local cuisine and rich culture of St Martin / Sint Maarten (one side of the island is French, one Dutch).
It is this mix of fine-tuned musical curation, an astonishing natural setting and a quality-over-quantity model that has come to define the SXM Festival experience. With an already budding community of dancefloor devoteés and the attention of the globetrotting party elite, 2017 will see the festival rise even closer to its fated ranking amongst the world's best music events.
Stay tuned for even more artists to be announced!
For Tickets and More Info on SXM Festival Visit:
http://sxmfestival.com/