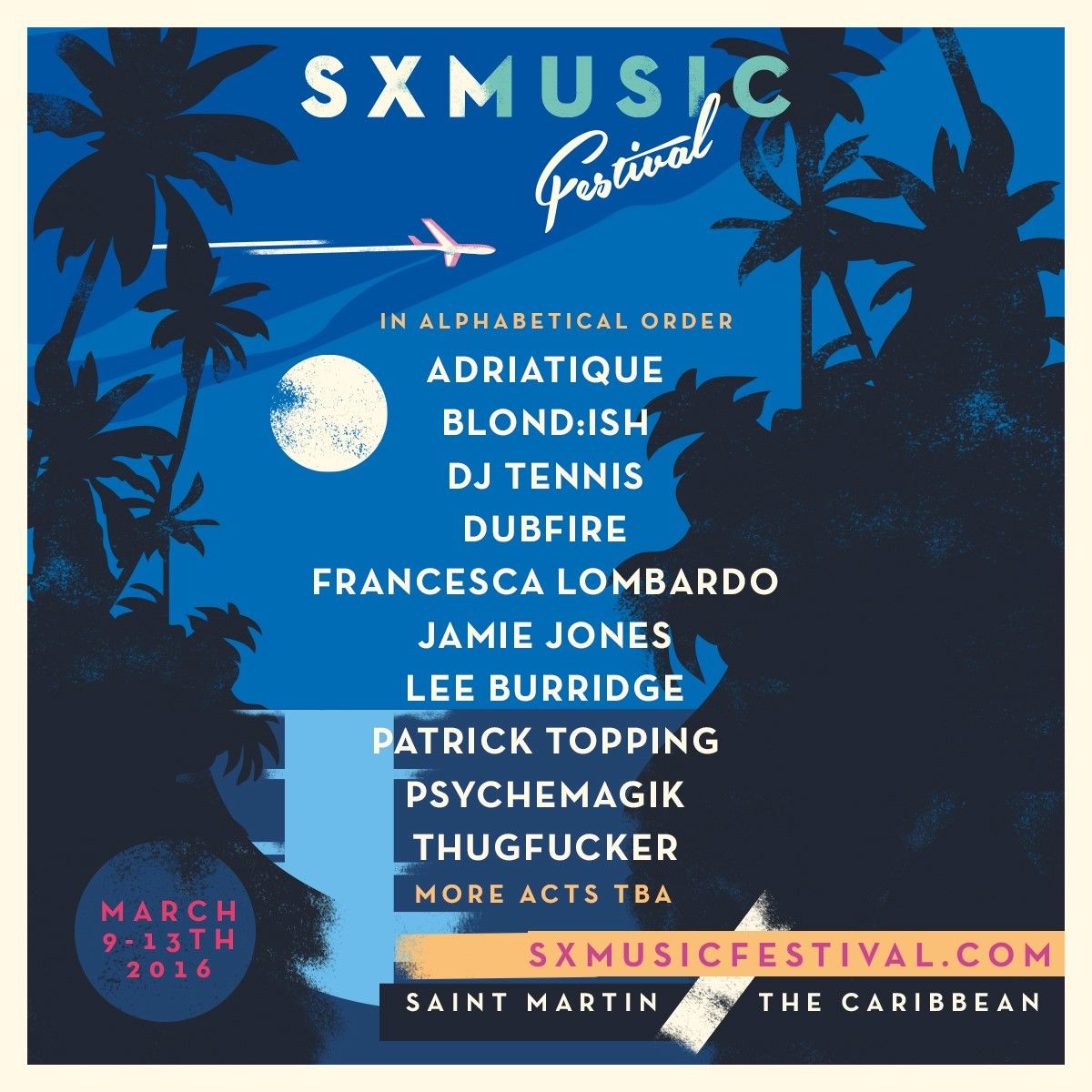 SXMusic Festival launches in the Caribbean
SXMusic Festival launches in the Caribbean with 1st Acts Jamie Jones, Dubfire, Lee Burridge, DJ Tennis, Adriatique and more.
SXMusic is a brand new, boutique electronic music festival set to unfold in March 2016 on the beautiful Caribbean island of St. Martin. In a crowded global festival market, this carefully conceived, five-day event in a dreamlike location promises a unique, unforgettable experience for those lucky enough to enjoy it. Jamie Jones, Dubfire, DJ Tennis, Lee Burridge, Adriatique, Thugfucker, Blond:ish, Francesca Lombardo and Psychemagik complete the first wave of artists.
Saint Martin is a small island where temperatures hover in the 80s all year round. This dual territory paradise features rolling green hills, endless white sandy beaches, clear blue skies and crisp tropical seas. A mixture of French and Dutch culture characterises this magical place, giving it a bohemian, European vibe that echoes the White Isle. Amazing food options include Caribbean street food through to world class fine dining. Accommodation is wide-ranging and plentiful – from small hotels to grand villas with swimming pools, palm trees, tennis courts and private beaches. The stuff of dreams indeed.
The term SXMusic derives from St Martin's three letter airport code SXM. A destination for aviation aficionados, the airport is renowned for insane landings and take-offs – and during the festival, planes will thunder towards touch-down just meters above revellers' heads.
The talent is encouraged to stay for the whole week, creating a friendly, community vibe where DJs mix with fans in a holiday atmosphere. And as we are spending a week in paradise, who better to lead this roster than Hot Creations and Paradise main man, Jamie Jones. He will be joined by SCI+TEC boss Dubire and Life And Death chief DJ Tennis and one of the key label acts, Thugfucker, will bring a noir edge to proceedings, while acclaimed selector and producer Lee Burridge will provide some ethereal All Day I Dream magic with one of his infamous extended sets.
Diynamic talent Adriatique and specialist live duo Blond:ish will deliver their nuanced signature sounds and elegant techno producer, performer and DJ Francesca Lombardo also joins the fun. The phase one line-up is completed by London / LA based duo Psychemagik and their notoriously deep disco, crate-digging vibes. Longer form sets are positively encouraged at SXMusic, allowing the artists to really explore the outer edges of their collections for our listening (and dancing) pleasure.
At SXMusic, the environment is as much of a headliner as any of our top-tier international artists, so the team has taken several steps to minimize the carbon footprint of our festival's sound and lighting power consumption. Bio-diesel generators will power all outdoor events through the most energy efficient amps in the business, and LED lighting will provide subtle accents designed to augment the natural beauty of our locations.
Each day through to night, parties will take place at several carefully selected venues on the island and DJs will be given complete musical freedom to put the state-of-the-art Void Sound Systems through their paces (VOID Acoustics will provide the rigs at all locations at SXMusic). The events will be carefully programmed to take into account setting, time and location, and every stage will feature special additional production.
Of course, the featured events are only part of the story. Also expect a number of secret after parties back at private villas, boats and beaches.
1st Acts Announced
Adriatique
Blond:ish
DJ Tennis
Dubfire
Francesca Lombardo
Jamie Jones
Lee Burridge
Patrick Topping
Psychemagik
Thugfucker
More acts to be announced over the next few weeks
Festival Locations
The Forest
A secluded forest retreat with infinity pools, raised lounge huts and wooden platforms overlooking the tropical splendour. It's a stunning paradise straight out of the pages of Conde Naste Traveler with palm trees, roaming wildlife and lush waterfalls.
The Beach
With the most spectacular sunsets and views of the ocean, The Beach is famous for it's location at one end of the SXM runway. Planes fly in hourly to land just feet above party goers. Each landing is cheered in, DC10 style.
The Bay
Another stunning beach location nestled in a little cove, backed by lush green hills and cute Caribbean huts, with the tropical seas extending into the blue yonder.
Ticket Information
Take advantage of a super limited amount of low low priced early bird tickets on sale now at www.sxmusicfestival.com from €150
Travel Information
"The official SXMusic Festival travel portal is powered by Orbitz which offers attendees the absolute best prices for flights and hotels for traveling to Saint Martin. By clicking the travel link on our homepage, users can find the best, most direct flights available, see how far each hotel is from all the main festival venues, and utilise a help section that includes all the need-to-knows about traveling to the Caribbean. Be sure to book your hotels, villas, and flights here."
Please visit – http://sxmusicfestival.com/
Check out our island teaser video for SXMusic Festival.Head on over to www.SXMusicfestival.com where you can register for early bird tickets and easily browse our exclusive hotel options.Genre defining DJs. Longer sets. Breathtaking locations. Void Acoustics sound. Island Style.

Posted by SXMusic on Wednesday, 4 November 2015