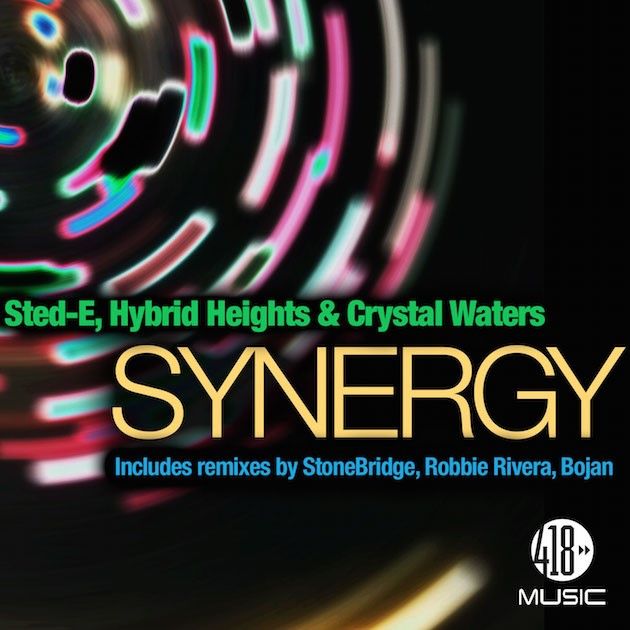 Sted-E, Hybrid Heights & Crystal Waters - Synergy
Dubbed as the "Queen of House," Crystal Waters lends her illustrious voice to NY native duo Sted-E & Hybrid Heights' new track "Synergy," out today on Beatport through 418 Music. Fusing together sultry vocals, thumping basslines and an insatiable groove, "Synergy" unites the perfect house melody fitting for those end of summer nights spent dancing until sunrise.
With five guest remixes and one original club mix, the six-track EP is destined to please even the utmost wide range of musical palates. Robbie Rivera contributes his signature Latin influences and tribal rhythms, while Stonebridge takes a spin on an eclectic, bass driving tempo, and Bojan adds whirlwind chord progressions that ignite a full-fledged banger.
About Sted-E & Hybrid Heights:
Sted-E & Hybrid Heights have quickly ascended into the upper echelon of dance music producers with their monster productions. Their ground breaking sound has lead to remix work, which has deemed them "the go to producers" for some of dance music's most respected artists and labels.The two began creating together in 2009, and their mixes have topped global charts and have gained them close to a dozen Top 10 Billboard Club hits and a half-dozen number 1's. Having been supported by the world's biggest DJ's such as Armin Van Buuren, Hardwell, Gareth Emery, Fedde Le Grand, Stonebridge, Sidney Samson, Dash Berlin, Alex M.O.R.P.H., Sunnery James & Ryan Marciano, Todd Terry, Chocolate Puma, and Matt Darey, they have been helmed as "Ones to Watch."
About Crystal Waters:
When you hear the name Crystal Waters, you immediately think of a 20-year brand and career that continues to engage and please her enormous fan base. She is best known for 1991's "Gypsy Woman (She's Homeless)", 1994's "100% Pure Love" and 2009's "Destination Calabria." Her accolades include: six ASCAP Songwriter Awards, three American Music Award nominations, an MTV Video Music Award nod, and four Billboard Music Awards. in July 2014, Crystal released "Be Kind" with heavyweight Swedish producer StoneBridge, with remix support from Axwell, Robbie Rivera, Junior Sanchez, Ralphie Rosario and more. 2014 also marked the anniversary of "100% Pure Love", re-released on Juicy Music.