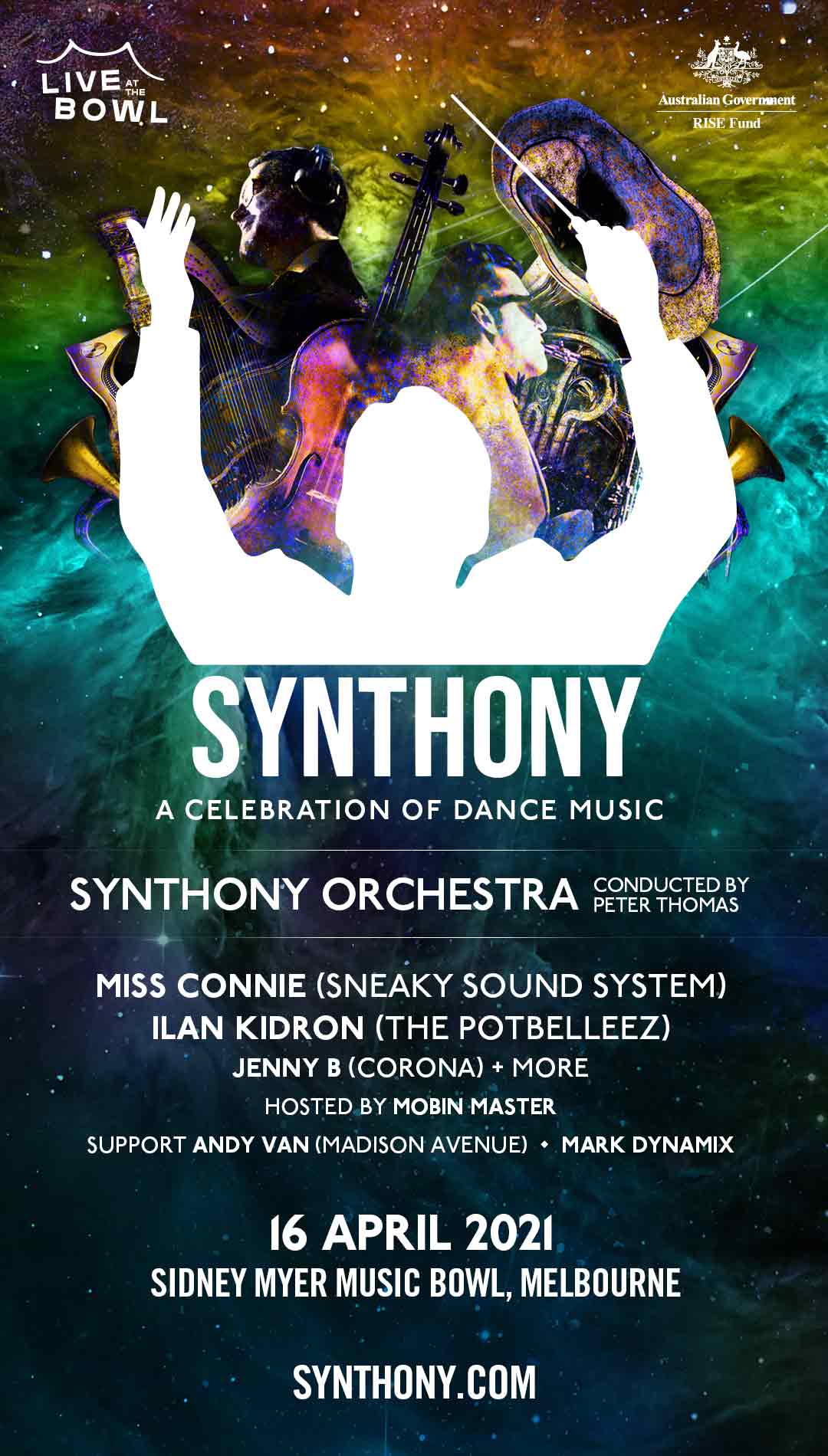 Synthony – A Celebration of Dance Music
The sell-out success, Synthony, comes to Melbourne for the first time for a 'One Night Only' epic outdoor show! The ultimate celebration of the last 30 years of Dance Music, Synthony is a unique collaboration between Orchestra, DJs, live vocalists and feature musicians.
The super-charged and energetic Synthony will showcase the biggest dance anthems from icons such as: Avicii, Eric Prydz, Fatboy Slim and Basement Jaxx to name just a few, backed with the full might of a 60+ piece Synthony Orchestra.  The show is stacked with iconic stars from across the Australian music spectrum playing their global hits including: Miss Connie (Sneaky Sound System), Ilan Kidron (The Potbelleez), Jenny B (Corona), Mobin Master, Andy Van (Madison Avenue / Vicious Records) and Mark Dynamix.
With an epic backdrop of visuals, lasers and a state-of-the-art sound system, it's a magical, uplifting, hands-in-the-air dance party like no other.  An energetic show from the outset, this is not an Orchestra as you know it.  This celebration of Dance Music is more than just a show, it takes the audience on a nostalgic journey back through their most memorable dance music experiences.  Track after track, fans are taken down memory lane and will celebrate dance music that is embedded into their subconscious.
Synthony's New Zealand shows (since 2017) have been attended by 'Sold Out' audiences (as well as its debut into Australia in Brisbane, 2019).  After successful shows across New Zealand (over the last few months, including a sold-out show at Spark Arena, Auckland) and the orchestral extravaganza's first outdoor show at the magical natural Amphitheatre of the Bowl of Brooklands (New Plymouth), the tour will expand to Melbourne this April, as part of the: 'Live at the Bowl' Summer series at the 'Sidney Myer Music Bowl.'
Synthony Australia will include some of Australia's Dance Music's favourite Artists, including:
Miss Connie (Sneaky Sound System) 
Ilan Kidron (The Potbelleez) 
Jenny B (Corona) 
+ more to be announced. 
Hosted by: Mobin Master 
Support by: Andy Van (Madison Avenue // Super Disco Club) 
It's no secret that 2020 has been a tumultuous rollercoaster for event promoters.  The Synthony tour was due to be announced just days before New Zealand went into Level 4 lockdown and the future of the tour all of a sudden became awfully uncertain.  Shows across Australia, Asia, and the U.S were in the pipeline for 2020.  Months of preparation and negotiations with Artists, Venues and Sponsors were all dashed and the team behind Synthony, had to rebuild the program all over again.
___________________________________________________________
Duco Events Promoter Rachael Carroll says she's incredibly excited to bring the show back to Australia and hold the first outdoor show at the iconic 'Sidney Myer Music Bowl': "Given the circumstances, it's amazing to be able to bring this show to the music hub of Australia – Melbourne and have our show at the 'Sidney Myer Music Bowl.' We know as soon as Melbournians see this show, they'll be coming back year after year." 
The show will be run in a Covid-safe environment set up by the Arts Centre Melbourne, that will include socially spaced tables and seats and innovative private decks for groups of up to 6 people.  Carroll stated: "The Covid safe set up at the Bowl, is an incredible innovation by the Arts Centre Melbourne.  We are going full throttle with this show, so fans can expect an amazing high energy experience in a socially distanced safe format.  After everything Melburnians have been through, we can't wait to put on this epic dance party for them!" 
The Synthony show has only been possible thanks to the support of the Restart Investment to Sustain and Expand (RISE) Fund – an Australian Government initiative. "We certainly would not be putting on this show without the RISE funding support from the Australian Government and support from Arts Centre Melbourne.  These partners have given us the confidence to invest, take risks and put on events, that will see some Artists and suppliers secure their first job and income after a very long break in event activity," said Carroll.
Friday 16th April, Sidney Myer Music Bowl, Melbourne
All tickets are available through: www.synthony.com 
Follow Synthony on Instagram & Facebook @synthonyshow #synthonyshow