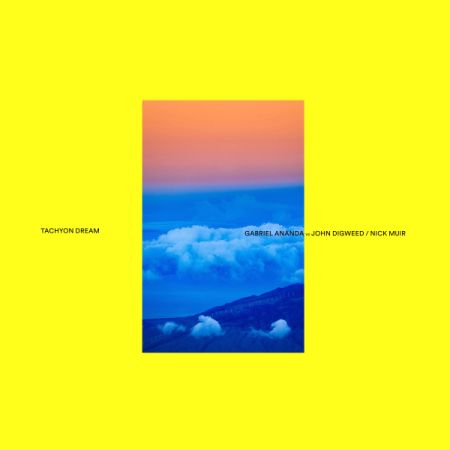 Gabriel Ananda vs John Digweed & Nick Muir - Tachyon Dream
The next Bedrock release is the result of a collaborative project of the highest order from three of the scene's most respected creative mavericks – Gabriel Ananda, John Digweed and Nick Muir. Their collective concept of electronic music ventures into a vast, unexplored field of endless possibilities and is the futuristic two-part 'Tachyon Dream'. A year in the making, the project started with John (who is a massive fan) reaching out to Gabriel to see if he would be interested in working on a project together with Nick. Gabriel already had a demo in mind that he had started and the project was soon up and running.
The adventuresome 'Tachyon Dream' begins with a delightful hip-wiggling organic percussive groove overlaid with superbly funky keys, before evolving with abstract and uplifting melodies to introduce more driving Techno elements and soaring into a dreamlike finale. In perfect contrast John and Nick's 'Tachyon Dream Rework' is an even more powerful, explosive beast. By upping the energy levels and introducing definitive acidic elements a sci-fi masterpiece is created, marrying the original's organic attitude with a more machine-like, technological vision from a mesmerizing, futuristic parallel universe.
Gabriel Ananda is continually driven forward creatively by new experiences in music, evolving and refining his very personal style ever further, to discover and explore soundscapes that evoke their own desires, dreams and emotions. He is an expressive and unique artist, who, ever since his early releases via labels such as Hörspielmusik, Karmarouge, Treibstoff, Trapez and Platzhirsch Schallplatten, has rocked dance floors around the world, pushing the boundaries of the global Techno scene from his studio in Cologne, Germany. The output from his highly respected Soulful Techno label and its accompanying podcast series are always required listening experiences.
Between them, John Digweed and Nick Muir, producers of the finest electronic dance music, have been involved in many pivotal moments in the world of club music over the years and have in many ways helped to define genres & continue to push boundaries further. Their partnership has been one of electronic music's most fruitful pairings, creating a body of work that's seen them become one of the world's most highly regarded production duos. Joining their boundless creativity with Gabriel Ananda is yet another positive mission statement, showing that this trio of exceptional artists are not ones for resting on past laurels, but always developing themselves musically in exciting new directions. John and Nick are already working on a track (to return the favour) that Gabriel will rework and release on his own Soulful Techno label in 2018.
For those of an inquisitive nature, a Tachyon is a hypothetical particle that always moves faster than light. Outside the realm of physics, this concept has inspired many writers of science fiction to develop exciting ideas regarding a means by which future humans will be able send messages backwards through time.
Beatport: https://www.beatport.com/label/bedrock-records/63
12" Vinyl Pre-Order: http://bedrockmusic.bigcartel.com/product/beddigi109vin-gabriel-ananda-v…
Artist Info:
https://soundcloud.com/gabrielananda
https://www.facebook.com/gabriel.ananda
http://johndigweed.com
https://soundcloud.com/john-digweed
https://www.facebook.com/djjohndigweed
http://www.nickmuir.com
https://soundcloud.com/nick_muir
https://www.facebook.com/Nick-Muir-297106693727761
Bedrock Info:
http://bedrockmusic.bigcartel.com
www.facebook.com/bedrockrecords
https://soundcloud.com/bedrock_rec
www.twitter.com/#!/BedrockRecords
https://www.beatport.com/label/bedrock-records/63
https://www.youtube.com/user/bedrocktransitions/videos