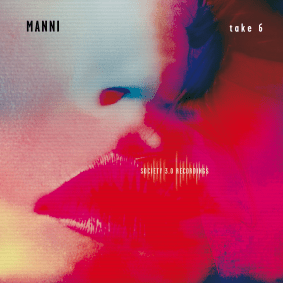 Manni - Take 6 LP
Berlin's Society 3.0 Recordings delivers Manni's new long player 'Take 6' this October, featuring fifteen new cuts from the Brazilian pioneer.
DJ Vanni aka Manni has long been a respected figure in the underground electronic music scene of Brazil and further afield, starting out as a DJ in 1985 before forming M4J alongside other renowned Brazilian producers and DJ's, in the early years of House and Techno the duo released two long players and picked up support along the way from the likes of Derrick May, Laurent Garnier and Green Velvet amongst others. To this current day Manni continues to spin records at hot spot like D-Edge, Lab Club and more on his home turf and makes music a solo act, here he offers up his latest long player for Society 3.0 Recordings.
Across the project Manni showcases the depth of his knowledge and experience in electronic music, casting the net wide across many different genres from the robust house feel of cuts like 'Batucada', 'Walk On' and title-track 'Take 6' through to more jazzy lounge influenced tracks like 'Superkiss', 'Tamborim Cuica', 'Bassino Treblinsky' and 'Ces't Chic'.
All of the aforementioned showcases the bright sounds of Manni and the musical landscape surrounding him although he also offers up some nods towards 3am dance floors in dark club spaces with tracks like 'Move Your Ass', 'Need To Find Myself', 'The Central' and 'Walk On'.
Manni's 'Take 6' LP is out on Society 3.0 Recordings 26th October 2018.
Tracklist
1. Take6
2. Batucada
3. MoveYourAss
4. Need T o Find Myself
5. TryToBeCool
6. TheCentral
7. MarvinMan(OddNew)
8. C'estChic
9. WalkOn
10.Tamborim Cuica
11. Superkiss
12.LaLaLa feat. Bassino Treblinsky
13. Father
14.Pineapple Bud
15.Marvin Man (Punk Disco)