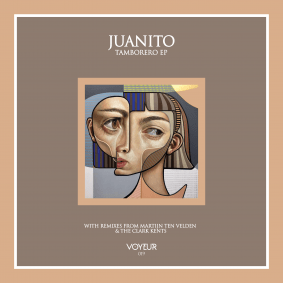 Juanito - Tamborero EP
Voyeur Music are back with what could become some of the biggest tracks of the summer, straight from the studio of Barcelona based artist Juanito. His originals come with fresh remixes from Martijn Ten Velden and The Clark Kents.
Juanito makes edgy dance floor weapons, is a regular on Beatport charts, and since only 2016 has become one of the most talked about artists of the tech house scene playing across Europe. He has released on this label before and the results sat in the Spotify Top 50 and dance charts for three months, while this new one has been supported by Reboot, Nicole Moudaber and Felix Da Housecat so is sure to blow up.
Superb opener 'Tamborero' is a perfectly warm, sun-kissed and open air house tune that's will become a real anthem. It has a tribal feel with lush organic percussion and hazy synths all backed by subtle vocal chants. It's one to get people's hands in the air and smiles on their faces.
The brilliant 'Better Have My Money' is a more pumping and infectious tech cut with frazzled synths, strong vocals and warped bass. It's a real pumper to get the floor sweating. Dutch legend and Toolroom associate Martijn Ten Velden remixes first and does so with a weird and wonderful take that is zoned out and enchanting. The Clark Kents then stiffen it up with high energy drums and tense stabs that demand you dance to its bulky beats.
Last of all, the standout 'Oh Yeah' is a tense tune that teases with various fills and kicks before landing properly and really erupting with rock solid drums and a real sense of chunky house funk.
This is an assured, high impact EP from this most exciting of producers.
Tracklist:
01 – Tamborero (Original Mix)
02 – Tamborero (Martijn Ten Velden Remix)
03 – Better have my money (Original Mix)
04 – Better have my money (The Clark Kents Remix)
05 – Oh Yeah (Original Mix)