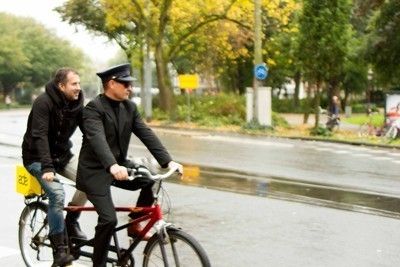 TECHNO DJ DAVE CLARKE RECEIVES HIS OWN DUTCH GIN
Yesterday, at café Oosterling in Amsterdam, world famous techno DJ Dave Clarke was handed a special personal bottle of Dutch Dave Clarke-gin by Frank Helmink of Buma Cultuur. This year is the tenth year in a row that Clarke, who lives in Amsterdam, performs at the Amsterdam Dance Event. The gin was especially bottled for him as part of his anniversary and will only be available during the Amsterdam Dance Event. The proceeds will go to charity.
"It's ten years of DC presents, how better to celebrate than to use the Dutch liquid of life in a kick ass Maslow design bottle and all proceeds from sales going to charity", says an excited Dave Clarke.
DAVE CLARKE @ ADE
Today the 19th edition of the Amsterdam Dance Event starts, which is an initiative of Buma and will take place until Saturday 19 October. The organisation expects 5,000 conference and 350,000 festival visitors from around the globe.
Dave Clarke embarks on yet another mammoth ADE schedule as he appears, hosts and moderates on 6 panels over the next 4 days.
http://www.amsterdam-dance-event.nl/speakers/dave-clarke/1320/
ADE: the Global Club Debate
Panelist alongside Donnie Estopinal (Disco Donnie Presents, US), Junior Sanchez (US), Shailendra Singh (Sunburn Festival, IN) Moderator: Danny Howard (BBC Radio 1, GB)
http://www.amsterdam-dance-event.nl/program/2014/ade-the-global-club-debate/15683/
Urbanears presents: The ADE DJ Cook Off
Judge alongside Seth Troxler (US) and Paul Oakenfold (Perfecto, GB) with cooks Arthur Baker (US), Boy George (GB), Pan Pot (DE), Kolsch (DK), La Fleur (SE). Presenters: Jonty Skrufff (Skrufff Media, DE), Gary Smith (FR)
http://www.amsterdam-dance-event.nl/program/2014/urbanears-presents-the-ade-dj-cook-off/20979/
What I Like, and What I Don't Like…
Panelist alongside Boy George (GB), Mark Jones (Wall of Sound, GB), Vato Gonzalez (NL). Moderator: Tommie Sunshine (BrooklynFire, US)
http://www.amsterdam-dance-event.nl/program/2014/what-i-like-and-what-i-don-t-like/20714/
A Conversation with Hollywood Soundtrack Maestro Hans Zimmer
Dave Clarke interviews soundtrack legend Hans Zimmer
http://www.amsterdam-dance-event.nl/program/2014/a-conversation-with-hollywood-soundtrack-maestro-hans-zimmer/17706/
I Want a Reaction Dammit!
Panelist alongside Dean Muhsin (Dispersion PR / Bear. Management, GB), Paul Hamill (Psycatron, GB), Terry Weerasinghe (Beatport, DE)
http://www.amsterdam-dance-event.nl/program/2014/i-want-a-reaction-dammit/20725/
Demolition Panel part XVIII
Dave as ever hosts the yearly Demolition Panel with guests Agoria (FR), Daniel Miller (Mute Records, GB), Gina Turner (US), Jackmaster (Numbers, GB) and Cue Chief: Niels Brands (Fire in the Disco, NL)
http://www.amsterdam-dance-event.nl/program/2014/demolition-panel-part-xviii/16045/
RESIDENT ADVISOR PODCAST OUT THIS WEEK
The Baron of Techno drops electro for the 437th instalment of the mighty Resident Advisor series.
http://www.residentadvisor.net/podcast-episode.aspx?id=437
AMSTERDAM DANCE EVENT: 10 YEARS OF DAVE CLARKE PRESENTS
Already a total sell-out, the event will be broadcast live on DI Radio – http://www.di.fm/ – for anyone who isn't lucky enough to be there. Guests will also have the chance to win a limited edition designed bottle of Genever, with all proceeds from the competition going to charity.
Check out the official after video of 2013's 'Dave Clarke Presents' at the Melkweg: https://www.youtube.com/watch?v=-pD7tkfGq6g
For additional info go to the ADE site here:
http://www.amsterdam-dance-event.nl/blog/2014/04/10-years-of-dave-clarke-presents-at-ade-festival/13507/
_UNSUBSCRIBE_ AT THE SUB:MERGED ADE SPECIAL
Dave Clarke will be playing a 3-hour b2b headline set with Mr. Jones as _Unsubscribe_ at the sub:Merged ADE Special, Sunday October 19th at WesterUnie. Also on the bill are Robert Hood, Kevin Saunderson, Black Asteroid, Pig & Dan, Marco Bailey and many more.
Check the link below for full event info and tickets:
http://www.amsterdam-dance-event.nl/program/2014/sub-merged-ade-special/13980/