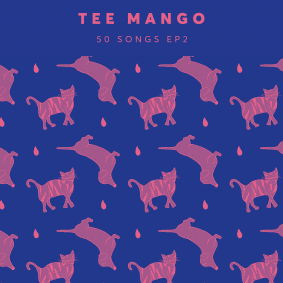 Tee Mango 50 Songs – EP 2
To mark his second artist album on his own Millionhands label in July, Tee Mango teases with a fantastic second EP from it featuring remixes from Kiwi, Hubie Davison, Hidden Spheres and Joshua James.
The fantastic full length finds the UK artist stretch himself and serve up a dazzling array of soul-drenched, vocal-laced songs featuring his own singing and influenced by the likes of Prince and Bon Iver. Detroit funk legend and former Funkadelic member Amp Fiddler features on two tracks and the whole thing is a musical masterclass. It comes with a seal of approval from Radio 6 Music legend Gilles Peterson and after EPs on the likes of Aus, Clone and Local Talk in recent years.
Opening up EP 2, Tee Mango serves up a fizzing and arpeggiated electronic disco track, 'Woo Hoo' which will undoubtedly be rocking festival tents this summer. Irishman and Leisure System man Hubie Davison then steps up to the plate with a heart-warming, tripped out and twinkling organic house mix of 'Down Down Down', featuring warm oaky melodies and Mango's fragmented falsettos. Then comes a dazzling techno-not-techno mix of 'Woo Hoo' from Londoner Kiwi, an associate fo labels like Correspondent and Optimo Music. This superb version keeps the galloping arpeggiated feel of the original but swaps the broken beat for a straight four to dizzying effect.
Following that is acclaimed Lobster Theremin, Rhythm Section and NTS regular Hidden Spheres with a hip house basement re-rub of 'Down Down Down' with more of Tee Mango's fragmented falsetto over a beat Prince would be proud of. Tee Mango himself then steps out with the excellent balearic skit 'Don't Worry About the Rain' with deliciously soothing Rhodes and synth whines topped with Mango's vocals imploring us to ignore the weather. Finally and fantastically there's a smash and grab techno-definitely-techno mix of 'Woo Hoo' by Phantasy Sound favourite Joshua James.
This is a top package that bristles with brilliant club sounds for a range of different settings and more than whets the whistle for the forthcoming album.
Tracklist:
1.  Woo Hoo – Orginal mix
2.  Down Down Down – Hubie Davison Remix
3.  Woo Hoo – Kiwi Remix
4.  Down Down Down – Hidden Spheres Remix
5.  Don't Worry About the Rain – Tee Mango CR78 remix
6.  Woo Hoo – Joshua James Remix