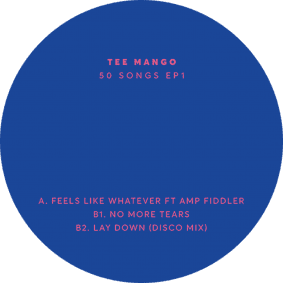 Tee Mango (Incl. Amp Fiddler)- 50 Songs EP 1
Ahead of his second artist album on his own Millionhands label in July, Tee Mango teases with a fantastic first EP taken from it.
The album finds the UK artist stretch himself and serve up a dazzling array of soul drenched, vocal laced songs featuring his own singing and influenced by the likes of Prince and Bon Iver. The Detroit funk legend and former Funkadelic member Amp Fiddler features on two tracks and the whole thing is a musical masterclass. It comes with a seal of approval from Radio 6 Music legend Gilles Peterson and after EPs on the likes of Aus, Clone and Local Talk in recent years.
Opening up the EP, Amp Fiddler features on 'Feels Like Whatever', an excellent house track with skipping drums and dancing Rhodes key. Oozing proper jazz vibes, the Detroit legend's trademark raw soul stylings and good time summer feelings, it is a sure fire hit.
The heart breaking 'No More Tears' is an introspective sad soul song that shows another side to Mango's skills. Tender chords, downbeat drums and vocal hums and coos all melt your very being.
Last of all comes the dazzling 'Lay Down (Disco Mix)' with its slapped funk bassline, finger clicks and squelch synth work all topped off by an effortless falsetto.
This is a great introduction to the full length to come and one that proves Tee Mango has matured his sound and mastered real song writing as well as emotive house grooves.
Tracklist:
1. Feel Like Whatever ft Amp Fiddler
2. No More Tears
3. Lay Down (Disco Mix)