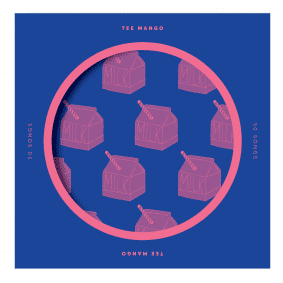 Tee Mango (Incl. Amp Fiddler) "50 Songs (LP)" – Millionhands (12-07-2019)
Tee Mango builds on a fine discography with a sophomore album on this own Millionhands label. '50 Songs' shows off a new set of skills and influences across 10 moving songs that Gilles Peterson calls, "my kind of house music."
After establishing himself as a house music connoisseur with timeless releases on AUS, Local Talk and Clone Royal Oak, the man born Tom Mangan uses the full length format to really stretch himself. "I normally write instrumental tunes, or tracks, and I have never really sung. I wanted to get uncomfortable and see if I could grow as an artist."
While DJs like Moxie, Dixon, Honey Dijon and Bonobo have all played Tee Mango tunes in the past, this mature and considered new album welcomes Detroit legend and funk pioneer Amp Fiddler to guest on two of the tracks. Next to that, a longstanding love of the likes of Prince, Frank Ocean and Bon Iver all inform this most richly detailed and rewarding record.
Right from the off there is an infectious and authentic sense of funk to 'Lay Down (Disco Mix)' which gets you on your toes. Falsetto vocals add a layer of soul that really comes to the fore on the blue eyed melancholy of 'No More Tears', which is a gospel-tinged lullaby for lovers that samples diggers' favourite The Supreme Jubilees. Amp Fiddler brings his unmistakable class to 'Feels Like Whatever', with its buttery vocals, Rhodes chords and skipping house drums all oozing warmth, and then 'This Is It,' a downbeat slow jam with achingly pensive chords and rueful vocals that muse on a lost period of time.
The likes of 'Down Down Down' show off some real synth playing skills and loveably loose beat programming, 'I Like It Here' shuffles on cosy deep house drums and rough edged hits as filtered vocals and subtle sax lines bring layers of emotion. The excellent 'Beat That Drum' takes a darker turn until the soaring vocals bring light and hope, 'Woo Hoo' is the first all out dance floor assault, with its manic digi-synth leads and unabashed vocal coos taking you to the heavens and things play out through the introspective 'Step Inside' and brooding 'Dont Worry About The Rain'.
With its heart aching vocals and genuine sense of soul, this is one of the most layered, emotive and original records you will hear all year.
Tracklist:
1. Lay Down (Disco Mix)
2. No More Tears
3. Feel Like Whatever ft Amp Fiddler
4. This is It ft Amp Fiddler
5. Down Down Down
6. I Like It Here
7. Beat That Drum
8 Woo Hoo
9. Step Inside
10. Don't Worry About The Rain