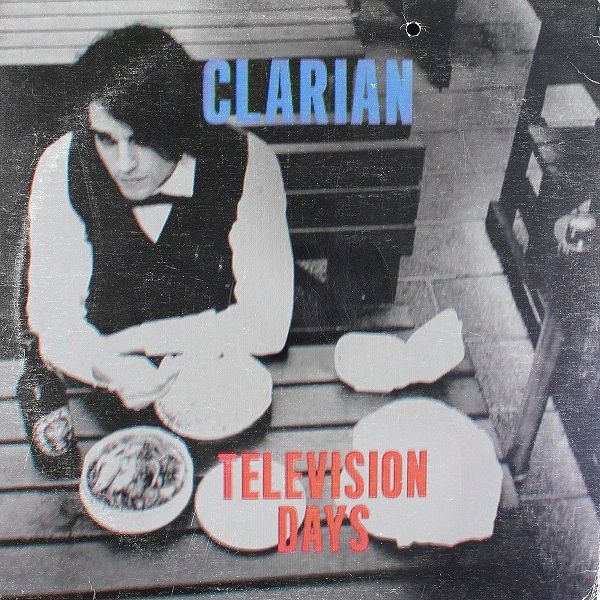 Clarian - Television Days
On February 23rd 2018, Canadian DJ/Producer Clarian will release his highly anticipated debut LP, 'Television Days', via Australia's influential label, Balance Music.
Ever enigmatic and distinctive, Clarian, a songwriter and sound engineer from Montreal, first gained notable recognition by the music scene via his former work in synth pop duo Footprintz, releasing several highly-acclaimed singles as well as 'Escape Yourself', an album project that was co-produced with Ewan Pearson and released via Visionquest.
Since the release of the aforementioned long-player, Clarian has continued his sonic development, maintaining his imaginative semblance channelling this into his own signature recording techniques and collaborations. With releases on labels such as Kompakt, Turbo, Rumors and Founders of Filth, Clarian has as well collaborated and engineered on several warmly received releases with Guy Gerber, Tiga, and recently Felix Da Housecat, and Jamie Principle on FOF's debut release Vol 1.
Following an "unusual winter in Mexico in which he was exiled by a local cult", Clarian turns his attention to his debut LP (under his own name), 'Television Days'. The album, (influenced by a Casio found under the bed of an Airbnb), was created in Berlin during a tumultuous period and follows the tragic adventures of Kevin Jones, a down-and-out television scriptwriter living in west Hollywood who's obsessed with Carl Sagan's cosmos and believes he's being contacted by ancient astronauts.
This characteristically ineffable theme is matched by the album's equally passionate and otherworldly style, with the long, drawn-out synths on opener 'Dedication to Sagan' and the retro-inducing soundscape on 'Lost Again' offering a fitting example of what's to come over the album's 10 tracks.
Other highlights include the LP's first single 'Under the Gun', a track bursting with lush lo-fi synths and percussion, fused with the almost breathless, reverbed vocal performance from Clarian that nods in the direction of 80's synth-pop works of Mute Records. There's also the atmospheric and colourful 'Tulum', the hazy synth-driven 'Down and Out', the dystopian sounding 'Mote of Dust' and the album's closer, 'Television Days', a track where Clarian's dreamy vocals blend particularly well with the melancholic percolating beats.
'Television Days' may be quirky, but it's also a rare glimpse into the state of mind and emotions of Clarian, who himself describes it as "a surreal self-examination of fears and mentalities after several nocturnal years of touring and producing music free to experiment and explore strange and fantastic worlds." Taking notes from the school of the tragic celebration, 'Television Days' is a standout and unique record that both showcases an array of ambient sound techniques as it pays tribute to its love affair for New Wave.
In the words of Kevin Jones, "let's get deep, let's get rocked."
'Under the Gun' (Inc. remixes by Michael Mayer and Tiga) will be out January 26th, 2018 via Balance Music.
'Television Days' will be out on February 23rd, 2018 via Balance Music.
Remixes of 'Television Days' from Guy J, Tim Engelhardt and Australian duo Digital Stars (aka Phil K & Danny Bonnici) will also be made available.
FIND CLARIAN ONLINE:
https://www.facebook.com/ClarianNorth
https://twitter.com/clarianmusic?lang=en
https://soundcloud.com/clariannorth
​​
FIND BALANCE MUSIC ONLINE:
https://www.balancemusic.com.au
https://www.facebook.com/balancemusiclabel
https://www.facebook.com/balanceseriesmusic
https://soundcloud.com/balanceseries
TRACKLIST
01. Dedicated to Sagan
02. Lost Again
03. Under the Gun
04. Tulum
05. Sleepers
06. Space Zap Forever
07. Mote of Dust
08. Down and Out
09. West Hollywood
10. Television Days