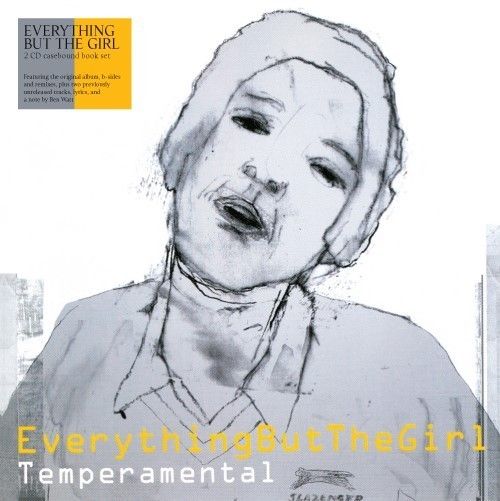 Everything But The Girl - Temperamental – Deluxe Edition
Edsel Records present the deluxe, remastered edition of 'Temperamental' – a brilliant album by the much-loved, musically-evolving and chart-topping duo Everything But The Girl, AKA married couple Ben Watt and Tracey Thorn.
Their Ninth album 'Temperamental', issued in 1999, was produced by Ben Watt and features the singles 'The Future Of The Future', 'Five Fathoms' and 'Temperamental'.
This deluxe edition features the non-album b-side 'Firewall', a previously unreleased album outtake 'Come In' and a previously unreleased live performance of 'Temperamental', plus ten remixes personally selected by Ben Watt for CD 2.
Following Ben's stint making experimental folk jazz featuring Robert Wyatt and Tracey Thorn's time fronting the indie/post punk group Marine Girls, the duo paired-up and formed Everything But The Girl in 1982. Another 9 albums followed that covered a multitude of styles, demonstrating a keen, sponge like appreciation for varied sounds, from folk-jazz, guitar pop, orchestral wall of sound, machine soul pop and – as demonstrated on 'Walking Wounded' and 'Temperamental' – electronic music.
In 1994 Tracey collaborated with Massive Attack on 'Protection' – a big track from a huge album, which introduced her distinctive voice to a new audience. Shortly after, EBTG's single, 'Missing', was remixed by Todd Terry whose ubiquitous floor filler went on to sell over 3 million copies, charting Top 5 in the US and UK.
All of this paved the way for the critically-acclaimed 'Walking Wounded' – a record that consolidated the duo's immersion into club-based sounds garnered both credible underground respect and huge overground success, with four UK top 40 hits and sales of over a million copies.
1999's 'Temperamental', with its house, drum & bass and soul-infused trip hop continued in a similar vein. It featured yet another anthem for the band in perpetual classic 'The Future Of The Future', which was a collaboration with Deep Dish, formed from an adaptation of the latters 'Stay Gold'.
"The success of Walking Wounded in 1996 had propelled us quite firmly into the electronic scene and delivered a new expectant audience. In addition, in the spring of 1998 Ben had launched Lazy Dog with Jay Hannan – a day-night deep house DJ party in west London that within eighteen months was to become a cornerstone of London clubland. Tracey's voice meanwhile was becoming ubiquitous on dancefloors everywhere. It seemed obvious what kind of record Temperamental was going to be – a sequel of sort." Everything But The Girl on Temperamental – taken from the Deluxe Edition book.

Disc One
Temperamental
1. 'Five Fathoms'
2. 'Low Tide Of The Night'
3. 'Blame'
4. 'Hatfield 1980'
5. 'Temperamental'
6. 'Compression'
7. 'Downhill Racer'
8. 'Lullaby Of Clubland'
9. 'No Difference'
10. 'The Future of the Future'
Bonus Tracks
11. 'Firewall'
12. 'Come In' [unfinished album outtake] *
13. 'Temperamental' [live at The Forum, London, 1999] *
Disc Two
Remixes
1. 'Five Fathoms' [Club 69 Future Club Mix]2. 'Five Fathoms' [Kevin Yost Enlightenment Mix]3. 'Temperamental' [Pull Timewarp Mix]4. 'Temperamental' [Hex Hector and Mac Quayle Reverse Drum Dub]5. 'Temperamental' [Wamdue Project Remix]6. 'Blame' [Fabio Remix]7. 'Blame' [J Majik VIP Remix]8. 'Downhill' Racer [Kenny Dope Remix]9. 'Lullaby of Clubland' [Markus Schulz Tribal Journey]10. 'Lullaby Of Clubland' [Matty Heilbronn II Deep Club Mix]
* = previously unreleased