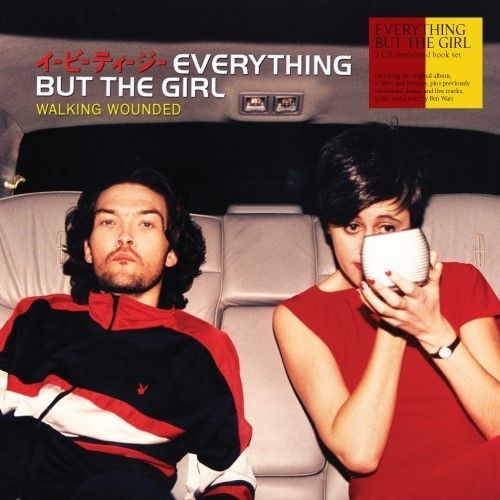 Everything But The Girl - Walking Wounded – Deluxe Edition
Edsel Records present the deluxe, remastered edition of 'Walking Wounded' – Everything But The Girl's critically-acclaimed and hauntingly-beautiful first foray into dance music.
Following the huge success of Edsel's 2 CD casebound book editions of the 7 albums that Everything But The Girl recorded for Blanco y Negro and Warners, the set is now completed with their last two albums 'Walking Wounded' and 'Temperamental', recorded for Virgin.
Both of these new deluxe reissues have an accompanying casebound book that features candid new sleeve-notes by Ben and Tracey, along with lyrics, memorabilia, previously unseen photos and ephemera from their own collection.
'Walking Wounded' – the eighth album by Tracey Thorn and Ben Watt AKA Everything But The Girl – was released in 1996 and features the Top 10 singles 'Walking Wounded' and 'Wrong', plus 'Single' and 'Before Today'.
Ben Watt has personally selected eleven remixes, including an unreleased Nellee Hooper version of 'Before Today'. Also featured is non-album single 'Corcovado', three previously unreleased live performances from Tokyo and four previously unreleased demos from Ben's own archive.
"Walking Wounded was almost never made. In early 1995 we decided to decamp to New York and took a sub-let apartment in Tribeca. We were of a mind to make a follow-up to Amplified Heart that expanded on its folk-breakbeat template, and had a plan to work with engineer Brad Wood who had made a mark with post-rock Chicago bands like The Sea and Cake and Tortoise. We wrote some songs, played an impromptu acoustic show at Sin-E in the East Village, ran into Jeff Buckley and were arranging to play with him at Glastonbury that year. But in the background Todd Terry's remix of Missing had been slowly gathering a head of steam on the world's underground club scene, and our contributions to Massive Attack's second album Protection were being praised. When a couple of friends also started telling us about a new electronic scene that was bubbling up in London it felt like a magnet was pulling us in the opposite direction. After a couple of months in New York – where we wrote 'Mirrorball' over a shoe shop on Chambers Street – we flew home. Within two weeks Ben had been down to see Fabio and Bukem spin at the Milk Bar, and Goldie's Metalheadz night at the Blue Note. It became a game-changing moment. We stayed in London and decided to make a different kind of record" Everything But The Girl on Walking Wounded – taken from the Deluxe Edition casebound book.
Disc One
'Walking Wounded'
1. 'Before Today'
2. 'Wrong'
3. 'Single'
4. 'The Heart Remains A Child'
5. 'Walking Wounded'
6. 'Flipside'
7. 'Big Deal'
8. 'Mirrorball'
9. 'Good Cop Bad Cop'
10. 'Wrong' (Todd Terry Remix)
11. 'Walking Wounded' (Omni Trio Mix)
Bonus Tracks
12. 'Corcovado'
13. 'Before Today' (live in Tokyo, 1997) *
14. 'Single' (live in Tokyo, 1997) *
15. 'Wrong' (live in Tokyo, 1997) *
Disc Two
Bonus Tracks
1. 'Mirrorball' (demo) *
2. 'Flipside' (demo) *
3. 'Above The Law' (demo) *
4. 'Speeding Car Side On' (demo) *
Remixes
5. 'Walking Wounded' (Dave Wallace Remix)
6. 'Wrong' (Mood II Swing Dub)
7. 'Wrong' (Deep Dish Remix Edit)
8. 'Single' (Photek Remix)
9. 'Single' (Brad Wood Memphis Remix)
10. 'Before Today' (Nellee Hooper unreleased 1996 Remix) *
11. 'Before Today' (Adam F Remix)
12. 'Before Today' (Chicane Remix)
13. 'Before Today' (Dilinja Remix)
14. 'Mirrorball' (DJ Jazzy Jeff Sole Full Remix)
15. 'Corcovado' (Knee Deep Classic Club Mix – Ben Watt vocal re-edit)
* = previously unreleased